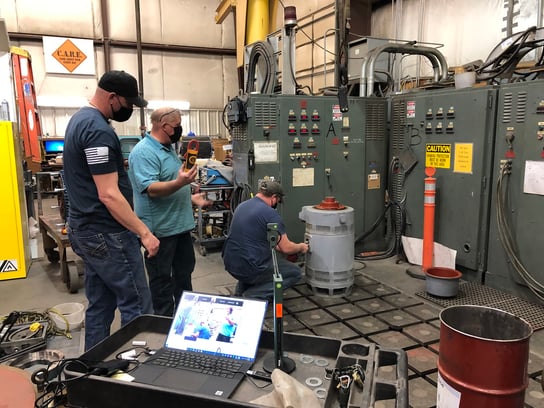 On January 11, ISU's Continuing Education and Workforce Training partnered up with S&G Electric Motor Repair to provide a hands-on Zoom workshop to CEWT's 3rd-year electrical apprentices.
An apprenticeship is an occupational training that combines on-the-job experience with classroom instruction. During their third year, electrical apprentices have more of a focus on electrical motors and electrical motor controls.
After identifying a need in his student's education, Matt Neeser-- apprenticeship instructor for CEWT and electrical and instrumentation supervisor at JR Simplot Company, with over 23 years of experience in the electrical field -- came up with the idea to offer his students a hands-on workshop in an industrial setting.
"In my years of teaching this class, I have found that many of the students that come through our course only have experience in the commercial or residential side of our field and are not exposed much if any to the industrial side," he said. "I felt this could be a great experience for these students to see and get a slight understanding into the makeup and design of motors."
To this end, Neeser reached out to S&G Motor Company due to their involvement with motor and pump work at Simplot Don plant, asking them if they would want to be involved in a "hands-on" class. S&G employees Gabe Gibbons and Justin Farr agreed.
This year, in accordance with the current State of Idaho and ISU Covid- 19 safety protocol, instructors utilized Zoom for this "hands-on" workshop. Students were able to ask questions via the Zoom session and were provided a rare look at the parts of a motor.
"Electric motors are one of the hardest concepts for most apprentices. since they don't really have a chance to work with them in their day-to-day job," explained Paul Dickey, CEWT's apprenticeship coordinator. "To be able to see real motors and have them broken down and be able to ask questions of these professionals was incredibly valuable to the student's learning."
The workshop was a hit.
"The class really enjoyed this outside-the-box and interactive learning as they were able to walk through the basics of motors as well as see what goes into rebuilding, testing and troubleshooting them," said Neeser.
"I hope the apprentices got a familiarity with the inner workings of an electric motor, and it will help them with an increased knowledge of troubleshooting motors in the future," said Gibbons.
Both CEWT and S & G Motor company are excited to offer this workshop again next year.
The success of this class goes to show that finding creative solutions to problems leads to innovation.
"Never think that you're too good to learn something new," said Farr. "We never know everything, and should always be open to new ideas, and solutions."
If interested in learning more about CEWT's apprenticeship program, visit https://cetrain.isu.edu/enrollment/app/.