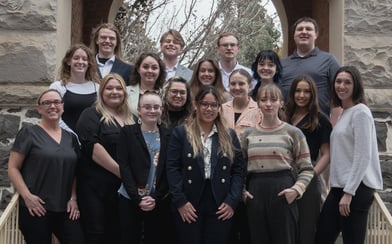 Here at ISU, there are many clubs and competitions to be a part of. One that unfortunately goes under the radar quite often is NSAC. The National Student Advertising Competition is a competition where college students all over the country get a chance to create an advertising/media/marketing campaign for a corporate client.
The competition has 15 districts that are made up of different universities based on their geographical locations. The different teams will compete within their districts first and then those winning teams advance to the semi-finals. During the semi-finals, those fifteen teams will compete for one of the eight spots at the finals. At the final competition, the top three teams win cash prizes and trophies. They also get to meet and make connections with industry professionals. This class is an amazing opportunity for students majoring in advertising and communications-related degrees.
The team is split into different groups: Creative, Media Planning, PR/Events, and Research/Strategy. This helps things to flow smoothly so students who are more experienced in one category can focus on their group rather than everything all at once. This is to ensure the campaign will be produced to the best of our abilities. After the plansbook is finished we regroup and then split off into another set of groups: Creative, Script writing, and Support. This is for the last stages of making the presentation for the upcoming district competition.
We have the whole sixteen weeks of the spring semester to come up with the whole campaign. The first part of the campaign is making a plansbook. This is a printed version of the campaign that includes research, target profiles, creative and campaign strategies, and media plans. After getting done compiling all of that information into a cohesive book we have to make a presentation to go with it. In this stage we come up with a script and presentation based off of the plansbook.
Amanda Bennett, Professor of CMP 4460 NSAC class and AdFed (Student Advertising Federation) club advisor, has competed in and is now teaching ISU's NSAC class. " I have had a wonderful experience with NSAC. As a student it was one of the most impactful experiences of my undergraduate degree. I learned how to work with a dynamic team, under very tight deadlines and how to push my creativity, both as a thinker and as a leader. As a teacher, I love seeing the advertising world really start to click for my students. I think it's the closest thing to a real-world experience that I can provide my students in a classroom setting."
Amanda continues, "NSAC helps develop a passion for advertising that can't be matched by lectures, textbooks, or in-class activities. It teaches students that they can do really hard, stressful things and come out on the other side with something tangible that they can be very proud of."
Having a very passionate professor also helps in the process of this class. Although stressed at times Amanda always keeps us on track and motivated to finish to the best of our abilities.
Shayla Rowe, Creative Director and Vice president of AdFed, is in her second year of NSAC. "The experience has been the most valuable part of my education, and I believe that it's really prepared me to move into my career. I've learned so much about advertising, marketing, and design not only from our research but from the feedback we were able to get from industry professionals."
Aurora Perley, the Creative Director in NSAC and the AdFed Club President, is also in her second year competing. "This intense and fulfilling program has been one of the highlights of my college career, providing me with invaluable lessons in self-confidence, leadership, and teamwork. After all the uncertainty with Covid, I was worried I'd end up leaving college without making any lasting connections, but NSAC gave me that opportunity and more. It exceeded my expectations by providing a supportive environment where I could challenge myself, develop my skills, and gain practical experience that is difficult to come by as a student."
I, Marly Ausman (CEWT Marketing Intern), am in my first year of NSAC and I'm a part of the PR/Events and Creative presentation team. I heard about this class from my Introduction to Advertising class and thought it'd be interesting to take. I'm super glad that I decided to take this class because it's given me great insight into how team dynamics work. It's also allowed me to help comply research and create an advertising campaign for a major client.
This year our team has seventeen people in it including our instructors. We have a few students that competed in previous years on the team again. This gives us all sorts of perspectives to go off of. NSAC is a great way to develop professional skills such as building team dynamics, efficient research skills, and time management. Getting to participate in NSAC is such a great experience and I would recommend it to anyone who's interested in advertising, marketing, or graphic design.
Sources:
American Advertising Federation:
https://www.aaf.org/Public/Public/Events/National-Student-Advertising-Competition/NSAC_Home.aspx