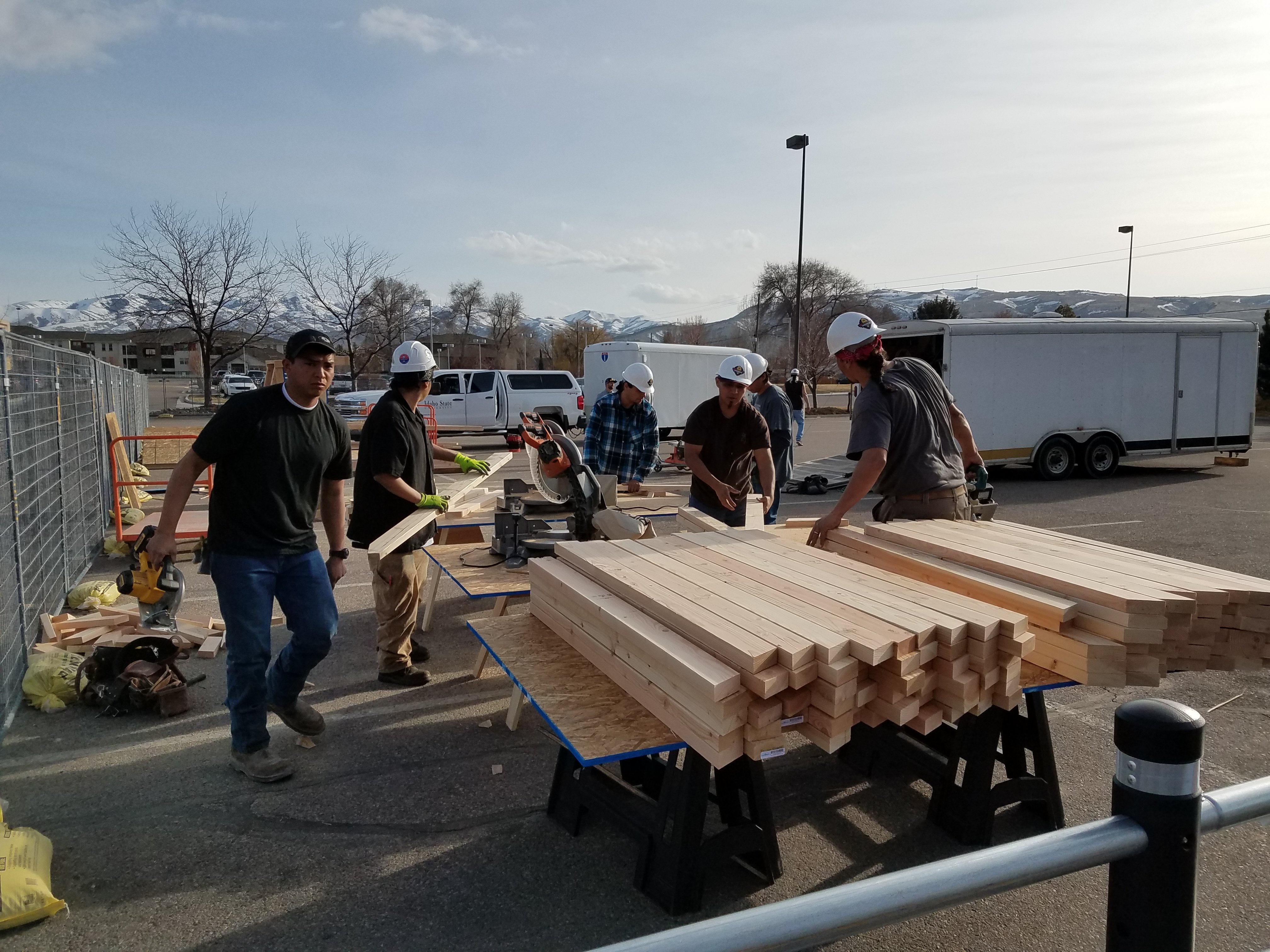 On Feb. 4, the Shoshone-Bannock Tribes' Tribal Employment Rights Office (TERO) will be hosting an open house at 89 W. Agency Rd., Fort Hall, ID, to recognize the opening of a new TERO Training Center.
Located in a former food distribution center warehouse, this new training center will provide a larger space for Tribal apprenticeship programs to receive hands-on training in their trades.
Since the approval of TERO's apprenticeship programs in 1995, ISU's Continuing Education and Workforce Training (CEWT) division has helped provide related training to the Tribal Apprenticeship Program, assisting with curriculum needs and appointing quality instructors.
Steven Quinton, the current Carpentry Apprenticeship program instructor, is one such example of a quality instructor. His 50+ years of construction industry experience has brought a high degree of practical exposure to the students.
Quinton has observed the dedication his students have to learning, even after long 8-10 hour days spent on their job sites. "They love to see projects come to life. They read the assignments, they quiz themselves... [the apprentices] go to their jobs every day and they tell me how they used what they have learned in class today on the job," Quinton said.
TERO's apprenticeship programs have had a positive impact on the Shoshone-Bannock tribes' career opportunities.
"Over the past twenty years, our workforce has become qualified in all areas. We have several tribal members who own their own businesses performing the work they learned in an apprenticeship program," said Lenora Lavatta, TERO's Compliance Office/Training Coordinator.
TERO currently offers seven trades, including carpentry, plumbing, electrical, painting, iron working, heavy equipment operation, and HVAC.
During the TERO open house, a raffle will be held at 6 p.m. for a storage shed built by second-year TERO Carpentry apprentices. All proceeds from the raffle will be donated to the 2020 regional Construction Combine.
TERO's Carpentry Apprentices assisted in last year's Construction Combine. The day before the event, the apprentices assisted with the prep and assembly of materials.
The Construction Combine, developed by CEWT, is a unique training program designed to meet the shortage of skilled workers in the construction industry. It provides new skills training to job seekers, who are mentored by local contractors. Participants work with team leaders, local contractors and journeymen, to assemble sheds, which are then donated to local disabled Veterans. Employers look for and hire potential new employees for their businesses based on the performance they see.
Quinton, who also volunteers as a Team Leader during the Combine, believes that the trades offer an alternate career pathway for young adults.
"For some young adults, college may not be for them. There are many young men and women that if they had the chance to enroll in a trade school or classes, I believe they would be full. There's a lot of hungry kids that would be perfect for this kind of opportunity," he said.
To learn more about TERO's apprenticeship program, visit http://www2.sbtribes.com/tero/​.