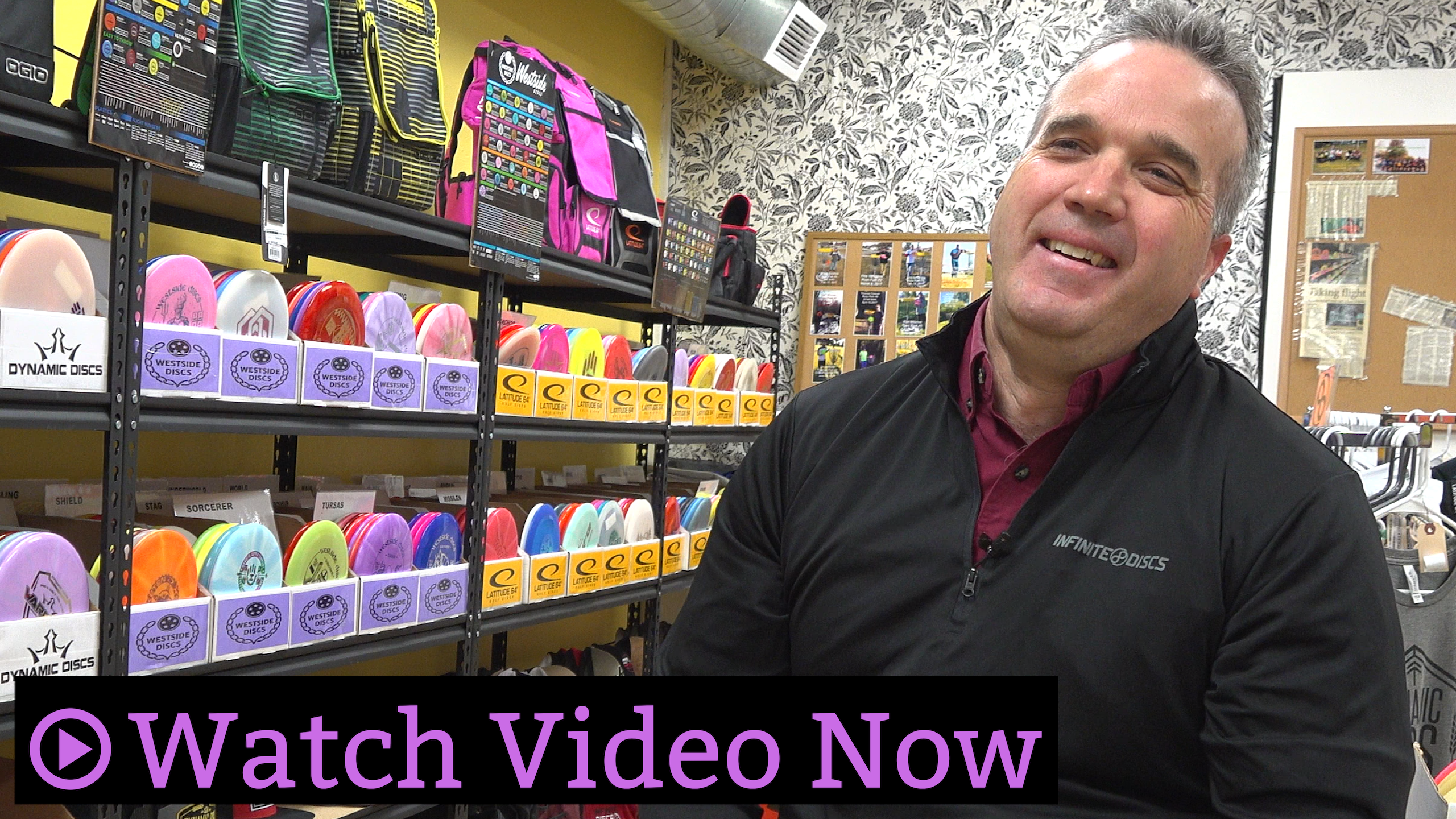 Good news: frisbee is cool again.
While most might have played frisbee once or twice, the advanced version of frisbee-- disc golf-- offers extra challenges for players.
Disc golf applies the same elements of traditional golf, where players try to land into holes in the least amount of turns. However in disc golf, the holes are baskets covered in chain, and instead of having drivers and balls, players toss different types of discs designed to do different things. Some are designed to travel far distances, while others are made for accuracy or wind resistance.
Disc golf can be a good way to get more exercise, a fun hobby to do with friends, or an exciting way to challenge yourself.
For anyone interested in getting into disc golf, Rick Smellie, owner of Dell's Home Appliance and Mattress Center, has everything you might need.
Recently, he opened another business inside of Dell's Home Appliance: Infinite Discs.
With a colorful wall of an assortment of discs, to portable baskets in sizes ranging from desk-sized to full-sized, to other necessary supplies, Infinite Discs has something for everyone, novices and experts alike.
Originally, Smellie didn't have much knowledge about disc golf. His first experience with involved his wife calling him, telling him that their son, Bryson, was getting stitches. He had been playing frisbee golf and his friend's dad hit him in the head with a frisbee.
After that, when his oldest son, Jace, graduated high school, he started playing obsessively. "I just thought it was the biggest waste of time. It took me a few years to come around, and then he finally got me out going. I was like, 'Yeah, this is fun,'" Smellie said.
When Jace went to Utah State, he started working for a startup company called Infinite Discs. They started in Logan, Utah, and in 2012, they decided to start selling disc supplies online. Since then, they have become the largest online distributor of discs in the nation.
A few years later, Smellie decided to open up an Infinite Discs store in Pocatello.
While Smellie played ultimate frisbee when he was in high school, he discovered that frisbee and disc golf are completely different. "I've spent the last three years breaking a lot of really bad habits that I got from throwing big frisbees that don't even work," he said.
Smellie recommends that players have at least three different types of discs: a putter, a mid-range, and a driver.
The putter is designed with a big rim and is intended for shorter distances. An average player would usually use this within 100 feet.
A mid-range is slimmer than the putter, giving it a further trajectory. These are normally used within 200-250 feet.
Meanwhile, drivers are flatter, intended for less wind resistance, more speed, and more distance. These are used for further distances, usually over 250 feet.
The options to customize your discs doesn't end there. Within these types of discs, there is a variety of types that can are designed to do different things. Ultimately, though, it's a matter of personal preference. "It's just you learning what works for you," Smellie said.
Compared to other areas in Southeast Idaho, Pocatello has an ample amount of courses for players to use. There are five courses in the Pocatello region, with varying levels of difficulty. Most people learn to play at beginner-friendly courses such as Ross Park or Sister City Park, while more experienced players can enjoy more physically demanding courses.
One of the most well-known and most challenging courses is Bengal Ridge. Located near ON Semiconductor, the course is comprised of 18 holes, and players have to maneuver up and down hilly land. "That's where a lot of locals learned to play, so there's a loyalty to that course," he explained.
The most recent addition, the Mink Creek Nordic Center, is Smellie's personal favorite. Designed to be challenging, it consists of two eighteen-hole courses built into the Nordic ski tracks used in the winter. "The scenery is just phenomenal. It's beautiful up there. It's challenging every time because it's not quite the same and you've got to be able to know what you're doing with your shots," Smellie said.
But disc golf isn't just limited to warmer weather. During the winter, Smellie offers putting leagues within Dell's Home Appliance every week. "This has turned into a labor of love for the community. In the store here and down in the basement, we've made ten stations. It's funny because everyone puts between the appliances," he said.
Idaho State University's Continuing Education and Workforce Training (CEWT) is interested in supporting businesses and entrepreneurs with opportunities to get their story out there. For more information, visit cetrain.isu.edu or call 208-282-3372.