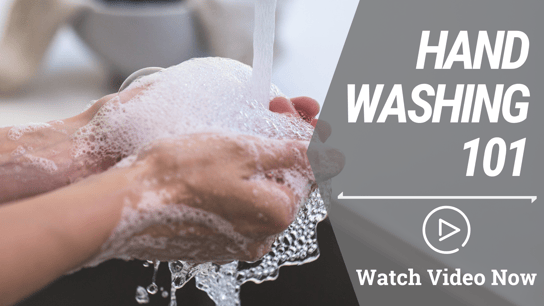 It is important now more than ever to keep yourself safe, and the best way to prevent spread of infection is by practicing good hygiene. Making sure you have the proper handwashing technique is crucial.
The CDC provides a guideline for proper handwashing with the following steps:
Wet your hands with clean, running water, and apply soap.
Lather your hands by rubbing them together with a good amount of soap.
Scrub your hands for at least 20 seconds. Tired of singing "Happy Birthday" to yourself twice? Here are some songs with 20-second choruses: "Africa" by Toto, "Jolene" by Dolly Parton, or even "Lose Yourself" by Eminem. (Find a playlist of 'Coronavirus Handwashing Songs' here!)
Rinse your hands well under clean, running water.
Dry your hands using a clean towel or air dry them.
If you are unable to wash your hands, use an alcohol-based hand sanitizer that contains at least 60% alcohol. Keep in mind that hand sanitizer is not effective on visibly dirty hands. Alongside this, prevent your hands from getting dried out and bleeding by remembering to occasionally use lotion.
So when exactly should you clean your hands? The CDC recommends that you clean your hands in instances where you are most likely to spread germs, such as:
Before, during, and after preparing food
Before eating food
Before and after caring for someone who is sick
Before and after treating a cut or wound
After using the toilet
After changing diapers
After blowing your nose, coughing, or sneezing
After touching an animal, animal feed, or animal waste
After touching garbage
Handwashing is vital, but making sure to follow other preventative actions-- such as avoiding close contact with people who are sick, avoiding touching your eyes, nose, and mouth, and staying home when you are sick-- will help prevent the spread of disease.
Resources:
Centers for Disease Control and Prevention. (2019). When and how to wash your hands. CDC.gov, https://www.cdc.gov/handwashing/when-how-handwashing.html.