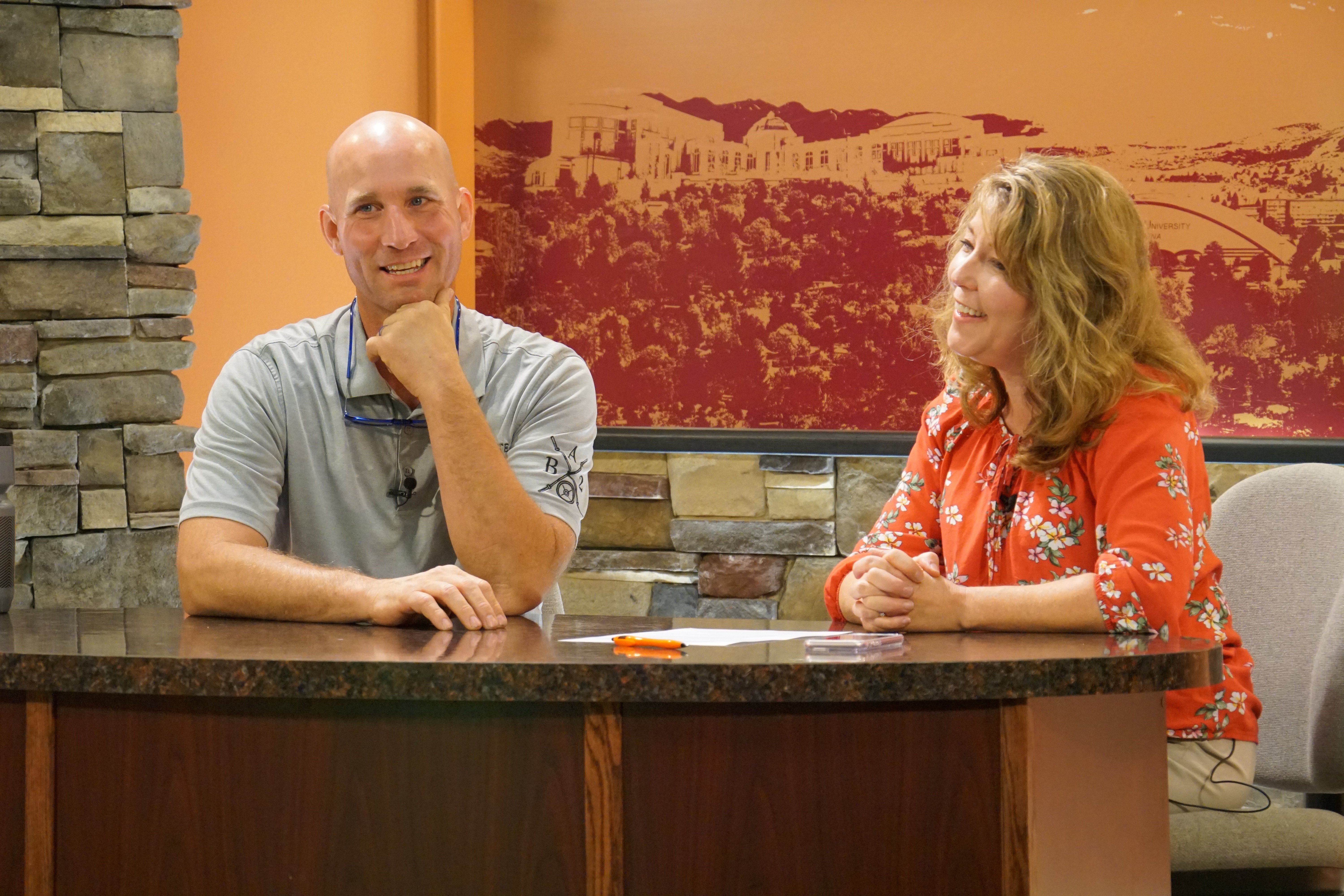 Chad Bannister, Bannock County Deputy Sheriff, speaks with RaeLyn Price, Continuing Education and Workforce Training (CEWT)'s Health Programs Coordinator, during the recording of CEWT's podcast, CEWT Talk.
Idaho State University's Continuing Education and Workforce Training (CEWT) is collaborating with community partners to provide a Mental Health Resource Fair on Saturday, Oct. 12 from 10 a.m. to 4 p.m located at 777 Memorial Drive in the R.F.C Building # 48 on the ISU Campus.
Attendees will learn about local and regional mental health resources through lectures on relevant mental health issues, including suicide prevention, crisis recognition, adverse childhood experiences (ACEs), and more.
One of the speakers will be Chad Bannister, Bannock County Deputy Sheriff and local school resource officer. He will be speaking about the positive effects exercise can have on those who have experienced mental health problems, addiction, or childhood abuse.
"People exercise for physical health. What they do not realize is the mind and body work as one. When the brain is not functioning properly because of past or present trauma or stress, there are physical manifestations of those brain maladies," Bannister said.
The landmark CDC-Kaiser Adverse Childhood Experiences (ACE) study showed a strong association between childhood trauma and health/social problems later in life.
Thankfully, the damage caused by trauma doesn't have to be permanent. Recent studies have found that exercise is a spark for neurogenesis and new brain development.
"When we exercise and move, we are creating new neural pathways. Once we have those pathways, our brain will hijack those new pathways to help us learn," Bannister explained. "The brain literally changes shape and the damage that was done in our youth can be reversed."
Coupled with other forms of mental health treatment, Bannister encourages exercise as an important role in overcoming trauma and strengthening resilience.
"Resilience is the mental ability to recover from traumatic experiences or a crisis. It is the mental processes and coping skills we have to overcome these challenges," Bannister said.
Bannister recently opened Resilience, a nonprofit focused on helping people overcome through exercise.
"There are many reasons that led my partners and I to start Resilience. We enjoy working with kids. We all come from poor or troubled backgrounds. For me personally in law enforcement, we usually deal with people who are in a state of crisis, and I'm a problem solver. I needed to have something to help people move beyond their current situations. The new science behind exercise shows that it is the best long term solution," Bannister said.
Bannister is also the co-owner of BA2 Training Center, which he opened with Cade Ackley eight years ago. He was inspired to open BA2 from the positive effect exercise had on his own mental health.
Following the 2008 financial crisis, Bannister-- who had been a home builder-- and his family were hit by the worst of the economic decline. Within the span of a couple years they lost their life savings, had their vehicles repossessed, and were forced out of their home, left with little to nothing to eat.
"To say this was a low would be an understatement," Bannister said. "I became extremely depressed and borderline suicidal."
But Bannister found resilience. His wife convinced had him to go back to the gym. There, one of his friends, Dr. Warren Willey, convinced him to begin bodybuilding and entering shows.
"[This] was the single most important factor to me being able to make a comeback. It took several years for me to recover from this depression. But I can tell every time I worked out I felt better."
Bannister added, "Diet and exercise was the one thing I had complete control over and it gave me a sense of control back in my life. I knew something was happening when I was working out I could feel myself getting better. I just didn't know the science behind what was happening then. But my instincts told me that the training was what was helping me to regain my sanity."
Bannister believes that he, his wife, and his business partner Ackley are living testaments to the resilience of people and how resilience can help one heal overtime. He hopes to continue to spread knowledge of childhood trauma and the hope of recovery from what it can cause.
Bannister was recently a guest on CEWT's podcast, CEWT Talk. Listen to him talk more about exercise-mediated neurogenesis here.
Chad Bannister can be reached through Facebook at BA2 Athlete Training.
If interested in learning more about CEWT's Mental Health Resource Fair, visit cetrain.isu.edu/mhfair or call CEWT at (208) 282-3372.