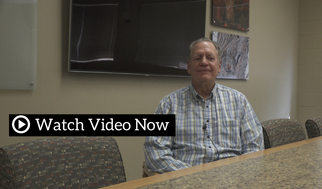 Here at Continuing Education and Workforce Training, we value the quality of our educators because of their experience working in their specific fields. We believe having the best instructors leads to having the greatest education possible. Faces of CEWT highlights our instructors to show just how 'sweet' they are!
Born and raised on a small cattle ranch in McCammon, Ivan Bullock knows Idaho like the back of his hand. Not only is he on the city council for McCammon, he also works with Idaho State University in industrial and safety training, along with OSHA 10, OSHA 30, and forklift certification courses.
Bullock has been connected to the University for over 20 years. He started off as a program coordinator at the Diesel Technology and Onsite Power Programs, while doing contract work for workforce training. One of his first experiences involved visiting several cities in the state to provide training seminars for school bus technicians.
In more recent years, Bullock developed a 'Train-the-Trainer' program for both ISU Maintenance & Operations and the state of Idaho in the Forklift Training program. Supervisors completed an OSHA certification class, followed by Bullock's Train-the-Trainer course so supervisors could certify other employees in their organizations.
When it comes to continuing education, Bullock believes that people should look at all opportunities available, not just a four-year degree. Technical industries still find difficulty finding employees, and the certification for these jobs are a fraction of the cost and time of a university degree.
"One of the things I've seen is sometimes the guidance counselors [who] come from the academic side don't focus as much on trying to guide some of these career-minded kids to look at the technical side of things. Sometimes it's hard work, sometimes it's dirty work, but the pay is really [good] and they're usually lifelong careers," Bullock said.
Bullock believes that looking making an informed decision is the best way to find something you enjoy.
"I always told the students that [came] to look at our program over the years to find something they like to do, because you're going to do it for a long time. The last thing you want to do is go to work every day and dread going to work," Bullock said. "You want to look forward to a new assignment or adventure every day. I think if you can find that, work's not drudgery. You don't go to work, you go fill another day with something you enjoy doing."
If interested in signing up for training courses, visit cetrain.isu.edu to check out our catalog or call us at (208) 282-3372.