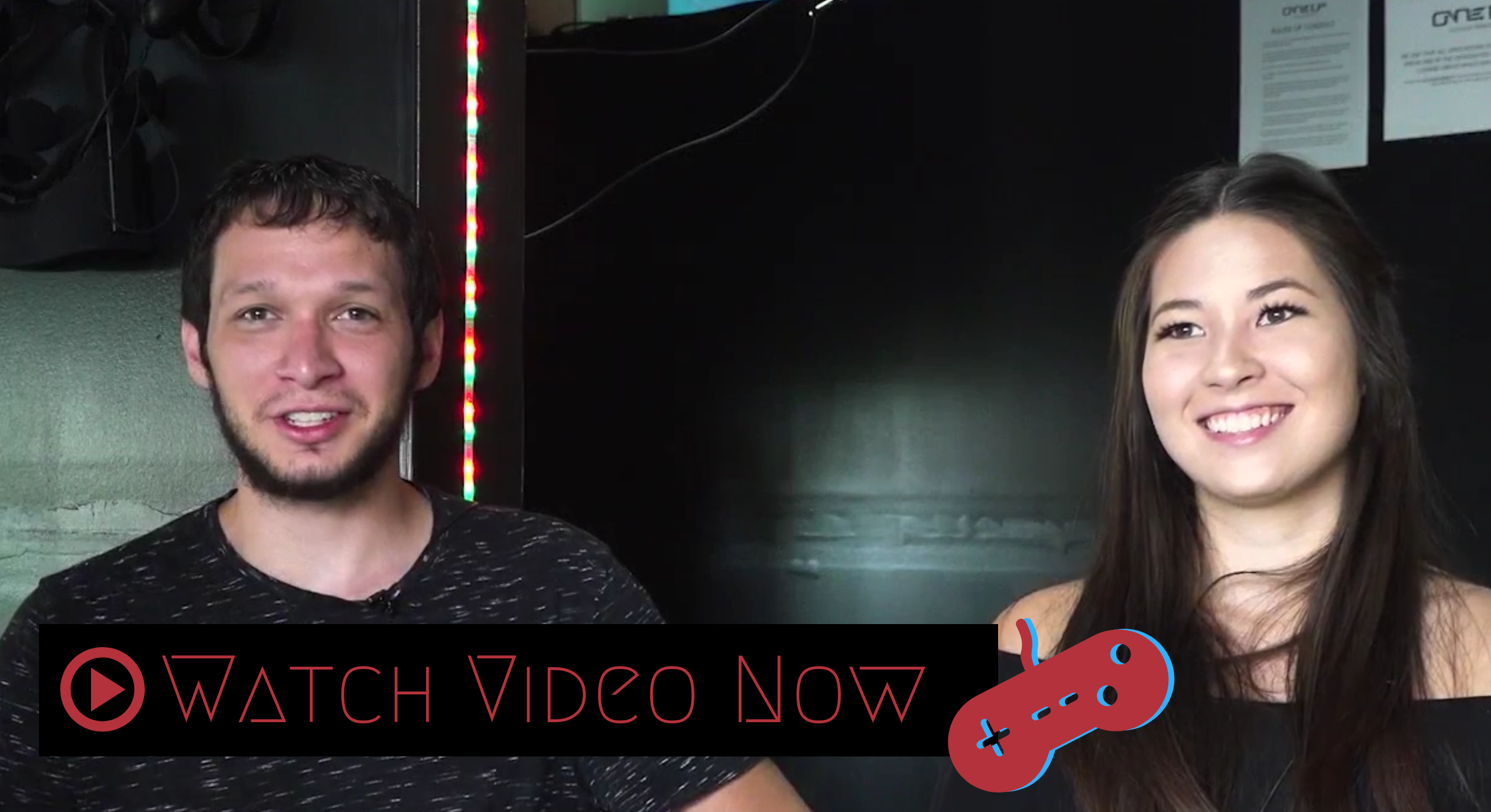 When thinking about what future technology can do, you might think about travelling anywhere in the matter of seconds, or making things appear with the simple click of a button, or doing whatever you want in worlds completely different than ours.
What you might not know is that these things are already possible.
Virtual Reality, shortened as VR, has become a booming industry in recent years. Headsets like the HTC Vibe and the Oculus Rift make it possible to become a part of the video game by giving the player full control to explore worlds or try new things, from piloting spaceships to being an office worker.
For those wanting to experience the fun of VR, One Up VR in historic downtown Pocatello is the answer for you.
Opened in July, owners Taft and Grace Johnson started One Up VR for people looking for something fun to do.
"We wanted to offer something more that people could actually come and do on their free time. I've always been a big person with PCs and networking, and I've worked in the industry for years, so I figured this was a great step, especially with as new as the VR technology is," Taft said.
One of their biggest obstacles, Taft noticed, is that not many people in Pocatello are familiar with how PC gaming and VR works.
Compared to consoles like the Xbox or PlayStation, PC gaming is not locked into the hardware's limits. Computers can be built to have high quality, realistic graphics and enough processing power to deliver clearer and smoother gameplay.
Virtual Reality, which runs a full three-dimensional space inside the headset, uses both high quality performance and graphics to make the virtual world feel real.
"It really does completely give you a different view as far as it goes for gaming. You feel like you're somewhere else because the only thing your vision perceives is what's going on in that headset," Taft said.
"It's kinda trippy because in headset, you'll have objects and different things you can interact with. Since they're in full 3D scale, you're actually reaching your hand into things like cars and trucks, or even onto things like barrels or walls. It's like you want to think that it's there but it's not," Grace said.
One Up VR offers over 30 video games currently, and eventually wants to offer over 100 titles.
"The great thing about VR is it really is almost unlimited as far as what kind of games you can play," Grace said. "We've got realistic things ranging from exploring Google Earth, deep sea diving, and hang gliding. And then we have, of course, your gamer favorites. There's something for everyone here."
The uses for Virtual Reality aren't limited to only video games. The Military has been using VR to train operatives, and psychologists have been exploring the therapeutic use of VR for people with disorders such as PTSD or Autism.
"Even in the medical industry, it's huge. You can download software as of right now that you can get a full 3D scale of someone's nervous system. So technically, you can take an MRI and you could put it into a VR simulation. If you have an accurate enough MRI and VR, you can expand it and see exactly where the problem is. I think VR [will] end up in almost every industry," Taft said.
Recently, One Up VR held a tournament for Beat Saber-- a rhythm game where players swing lightsabers to the beat of popular songs.
"Everyone involved had a great time. A few of the guys [even] danced to a Taylor Swift song. Everyone had a lot of fun with it. We are really hoping for our next one that we get a bigger turnout, because we want it to be competitive," Taft said.
Taft and Grace are offering a challenge to Pocatello: beat either of them in Beat Saber and potentially win a free hour of VR.
"We run our own personal VR stuff at home, so we've [had] a bit of practice," Taft said. "You got to be able to beat us, so you've got to put it some time, but it's definitely doable."
One Up VR is also offering a 20% discount to students with valid student ID on Monday-Friday from 3-6PM.
Along with VR, One Up VR offers custom PC building. Taft Johnson also runs Seven Deadly Sins Vapor in Chubbuck.
Idaho State University's Continuing Education and Workforce Training (CEWT) is interested in supporting businesses and entrepreneurs with opportunities to get their story out there. For more information, visit cetrain.isu.edu or call 208-282-3372.