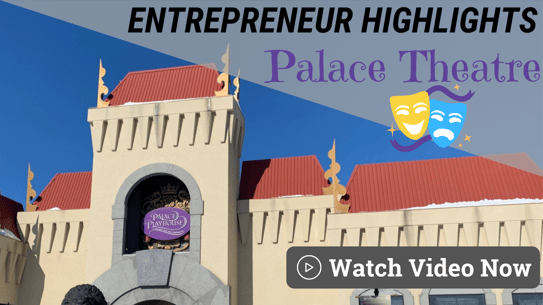 When driving through any small town in Idaho, the last thing you would expect to see is a palace. However, in Chubbuck, nestled between run-of-the-mill retail stores and residential neighborhoods, a grand castle towers over you. Nearing the entrance, a water fountain adorned with lion's heads with words invoking the arts ("dedication", "potential", "imagination", etc.) greets the lavish entryway. This community dinner theatre makes you feel like you've stepped outside of the mundane and into something magical.
The Palace Theatre, as it is known today, was erected in 2001 as the Mystique Theatre. It was originally established as a themed dining venue where people could enjoy dinner and magic. Over time, the theatre evolved to specialize in musical theatre, which remains as its priority today.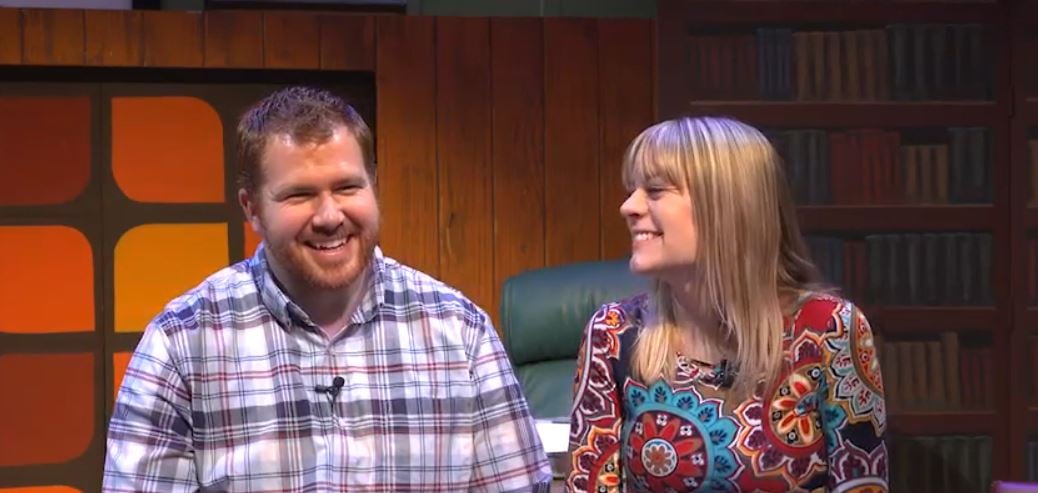 Chad and Jenna Davies, the Palace Theatre's owners.
The theatre's most recent owners, Chad and Jenna Davies, officially took over the theatre November 1 and changed the name from the Palace Playhouse to the Palace Theatre. As its owners, they have showcased their passion into making the Palace Theatre a community theatre that lives up to its name.
"We kind of laugh that we bought a castle in Idaho," said Jenna. "Driving down Chubbuck road, it stands out to you and you know what it is. When you walk inside, there's lit candles everywhere, there's lion's heads, there's chandeliers everywhere around every corner. This building is beautiful and we absolutely adore it. "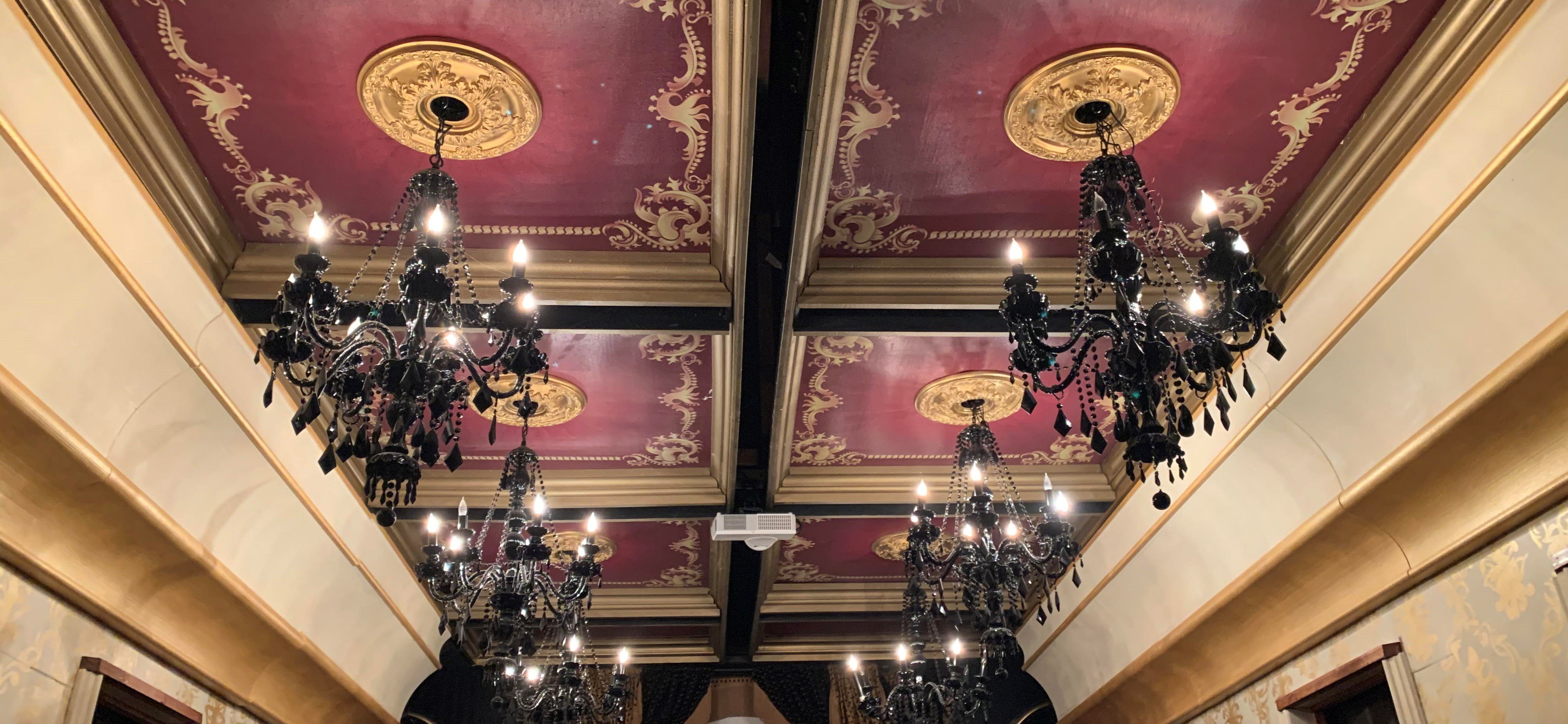 In a recreation of The Polar Express, chandeliers adorn the Palace's Chamber Theatre, where more intimate dinner shows are put on.

With everything that comes with owning a performing arts center, it is a wonder that the Davies have a chance to breathe. But they enjoy the challenge.
"We tend to kind of take everything on and just run at full speed and we have been like that our entire marriage. With everything we have done we have put our whole hearts and souls into everything, and I don't think I would have it any other way," said Jenna.
Alongside being owners of the Palace Theatre, the Davies both have full-time positions that they love. Jenna works as a video producer for Idaho Central Credit Union and Chad works as a construction and retail operations manager at Mastercraft Pool and Spa.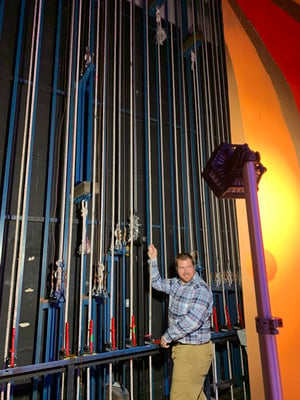 The theatre gives the Davies the opportunity to utilize their skills learned from their careers and previous ventures in entrepreneurship into something they are passionate about. They have the knowledge to lay out a groundwork for a business successful enough for art to flourish.
"We don't only love the arts side of it, we love business," stated Jenna. "Seeing the two combined is really what I thrive for. We like that aspect of having arts but having it successful enough that people can come and enjoy it over and over again."
"We've always been business owners. We have had many different ventures throughout our short life. We're still very young but I believe that everything we have done up and to this point has kind of led us to where we are now," said Chad.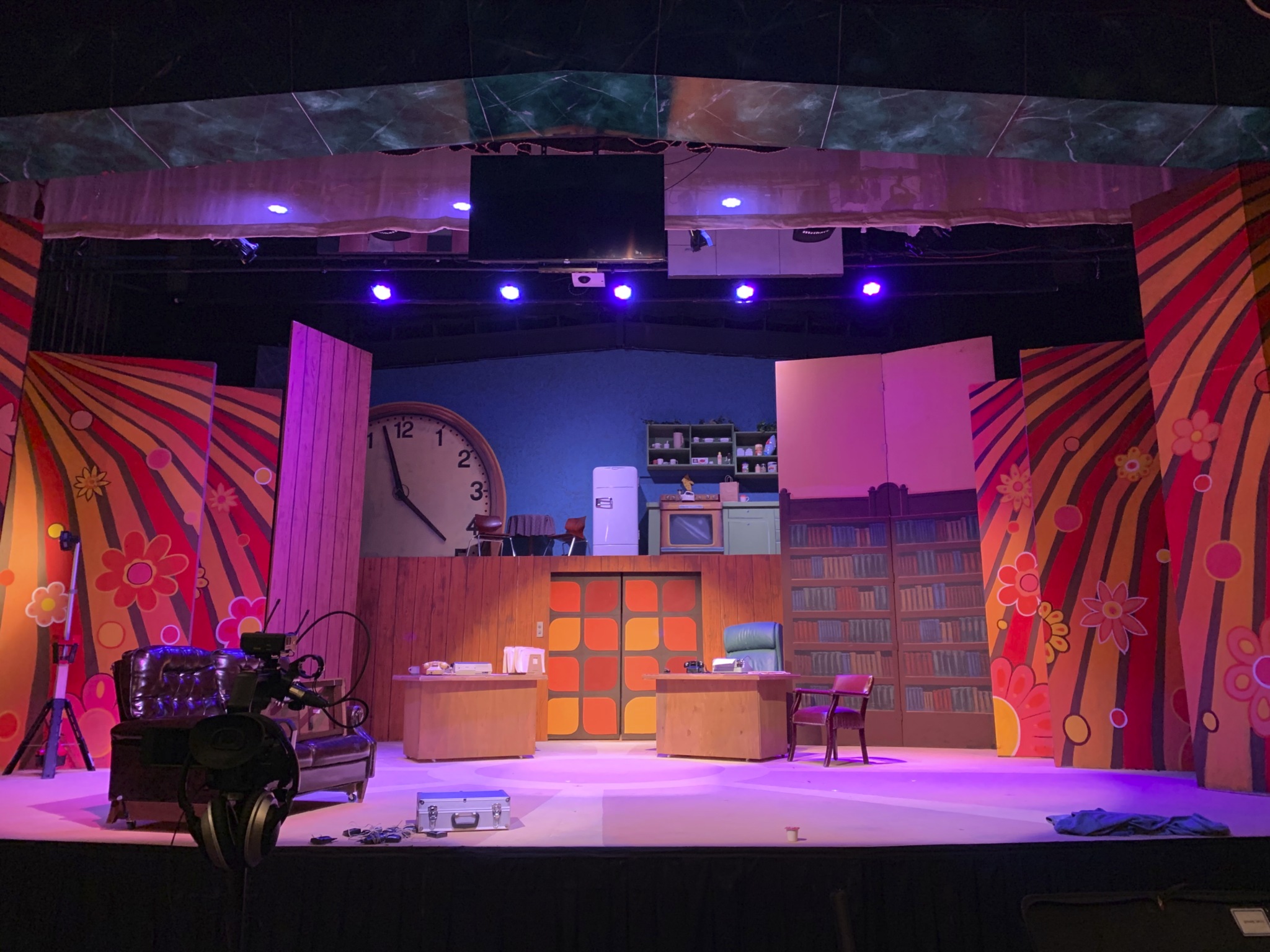 The Palace Theatre's main stage designed for their production of Dally Parton's 9 to 5.
The Davies' commitment to giving back to the community shines through all that they do. In turn, members of Pocatello and Chubbuck help the Davies with all of the aspects of running the theatre.
"We have so many different community members who come and volunteer their time and their hours all the time. And this place could not live or function without that. We love serving the community and in turn we love getting the help that it takes to run a massive building like this," said Jenna.
It is volunteer work that allows the Palace Theatre to be a living, breathing, functional, and fruitful performing arts theatre. As a community theatre, it relies on citizens of Chubbuck and Pocatello to be involved in every step of the way-- from production, to assisting patrons, and most especially the performers on stage.
"Everybody on this stage is your neighbor, your grocer, your doctor, your lawyer. Whoever you interact with in the community, chances are you know somebody who's been on this stage," said Chad.
"One of the incredible things about theatre, especially community theatre, is the social aspect. I know that all during high school, we did shows because it was fun. You got to hang out with your friends, you got to be goofy on stage, you got to wear these brilliant costumes and be dressed up," said Jenna. "You meet so many new people from the community, you gain so many new friendships and people that you get to know."

Chad and Jenna Davies performing during High School performances. Their experience in theatre inspired them to become owners of a playhouse. (Photos courtesy of Jenna Davies)
Alongside having the community be an active part of performances, Jenna has created an after-school theatre program for children. "I love the idea of owning a theatre, but the thing that I wanted the most was a children's school to teach theatre," she said. "The arts programs aren't funded [as much as sports] in high schools and in grade schools. This provides a place for them to come and have that experience."
She continued, "Watching [the children] blossom right in front of us-- they learn how to audition, they learn how to sing and stand in front of people-- is probably the most rewarding thing about owning this theatre."
If interested in learning more about the Palace Theatre, their current production, their season calendar, or their after-school classes, visit https://www.palaceplayhouse.com/.
Idaho State University's Continuing Education and Workforce Training (CEWT) is interested in supporting businesses and entrepreneurs with opportunities to get their story out there. For more information, visit cetrain.isu.edu or call 208-282-3372.