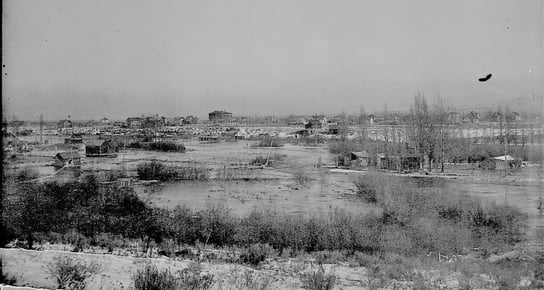 The original Pocatello town plat was laid out east and west of the railroad tracks on the Portneuf River flood plain. Almost every spring since the city was founded, some portion of the valley along the river has flooded when there is an early thaw. Though notable floods occurred in the 1930s, 40s and 50s, the worst floods occurred in February of 1911 and February of 1962.
The Pocatello Tribune reported on February 1, 1911, "…the railroad is washed out west of Inkom and sixty feet of track goes out—Portneuf River floods sweep away ten thousand dollars' worth of county bridges." The article went on to say residents from the power dam in the north to the city limits were forced to flee for safety and the crest of flood from the east was still coming. Business and residential property on both sides of the river, particularly east of the river suffered water damage.
The next big February flood was so extensive, it was the impetus to alter the course of the river through town. Though there is still some minor spring flooding north and south of town, no major damage to residential or business property has occurred since the Army Corp of Engineers constructed the concrete channel through Old town after the big flood of 1962.