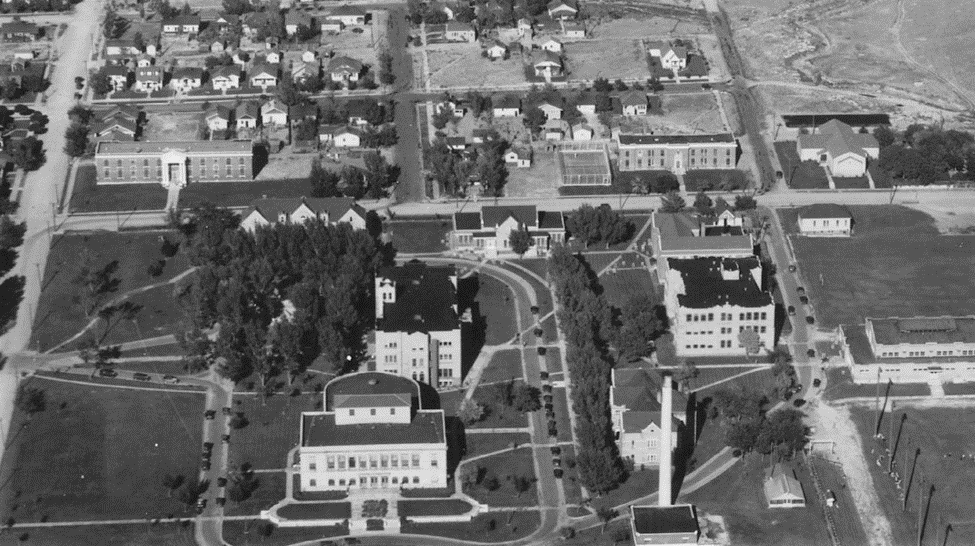 This late 1920s campus view shows the former LDS Institute (now the Dental Hygiene Bldg.) on the upper right. Left of it is Residence Hall (now a parking lot) on the corner of 8th and Terry. On the far top left is Colonial Hall, by Paradice in 1925 (former dorm, now an office bldg.) Other buildings are, center left to right, Faris Hall (boys' dorm) current location of Physical Science; the Beanery (cafeteria), replaced by Engineering; and the old Engineering bldg., (currently a parking lot). Next row, Swanson Hall, Baldwin Hall, and the original Reed Gym, (no longer standing). Bottom row, Frazier Hall, 1924, still in use, and the original Turner House (girls' dorm), current location of Business Administration. Bottom right with the tall smoke stack, is the original campus heating plant.
Four buildings of five on the ISU campus designed by famous local architect Frank H. Paradice are still in use. They are Colonial Hall, the Administration building, Gravely Hall, and Reed Gym. Residence Hall was demolished for additional campus parking several years ago.
Paradice (1879-1953) moved to Pocatello from Boise in 1914 at the suggestion of his friend James Brady, from Pocatello, who was Governor of Idaho. In addition to the ISU Administration Building, Paradice is best-known for the Brady Chapel in Mountain View Cemetery; Pocatello High School, the original Federal Building and many others in the Pocatello Old Town historic district.
His first campus commission was for Residence Hall. The Pocatello Tribune reported on July 17, 1920, "Architect Frank Paradice, Jr has finished the plans and bids have been called for the new men's dormitory to be erected at the Idaho Technical school [now ISU] this summer. It will be a two-story brick structure and will be located at the corner of Eighth Avenue and Terry Street on the school campus. . .The new building will contain thirty-two rooms for students, a proctor's room, reception room, shower baths and other modern conveniences. The building will be 116 by 39 feet."
The Idaho Statesman in Boise reported on May 28, 1920, "Business men of the city are building the new dormitory and will rent it at a reasonable rate to the institute." Originally a private enterprise, it soon became school property.