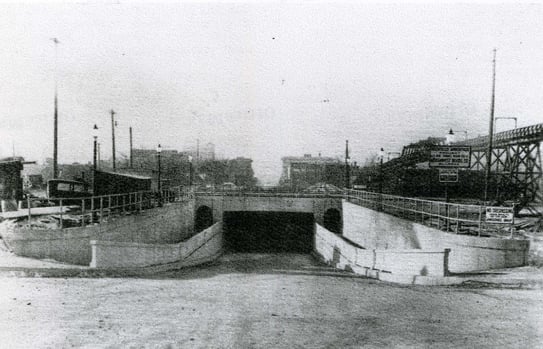 More than a century ago, the Center Street underpass was an overpass and the Benton Street overpass later replaced an underpass between East and West Halliday.
From 1878 to 1911, there was no way of crossing the railroad tracks through the center of the town without watching for and dodging train traffic. In fact, the Pacific Hotel/Freight Depot, located between rows of tracks, blocked part of Center Street to east/west traffic.
The south end of the hotel was removed to make way for the viaduct connecting East and West center Streets. The Halliday Street subway opened on August 12, 1911 and with the new viaduct under construction on Center would help to make a unified city.
The Center Street viaduct was open to traffic on October 4, 1911. The viaduct was replaced by the Center Street underpass in 1934 and the Halliday Street underpass was in use until the Benton Street overpass was built in 1965.