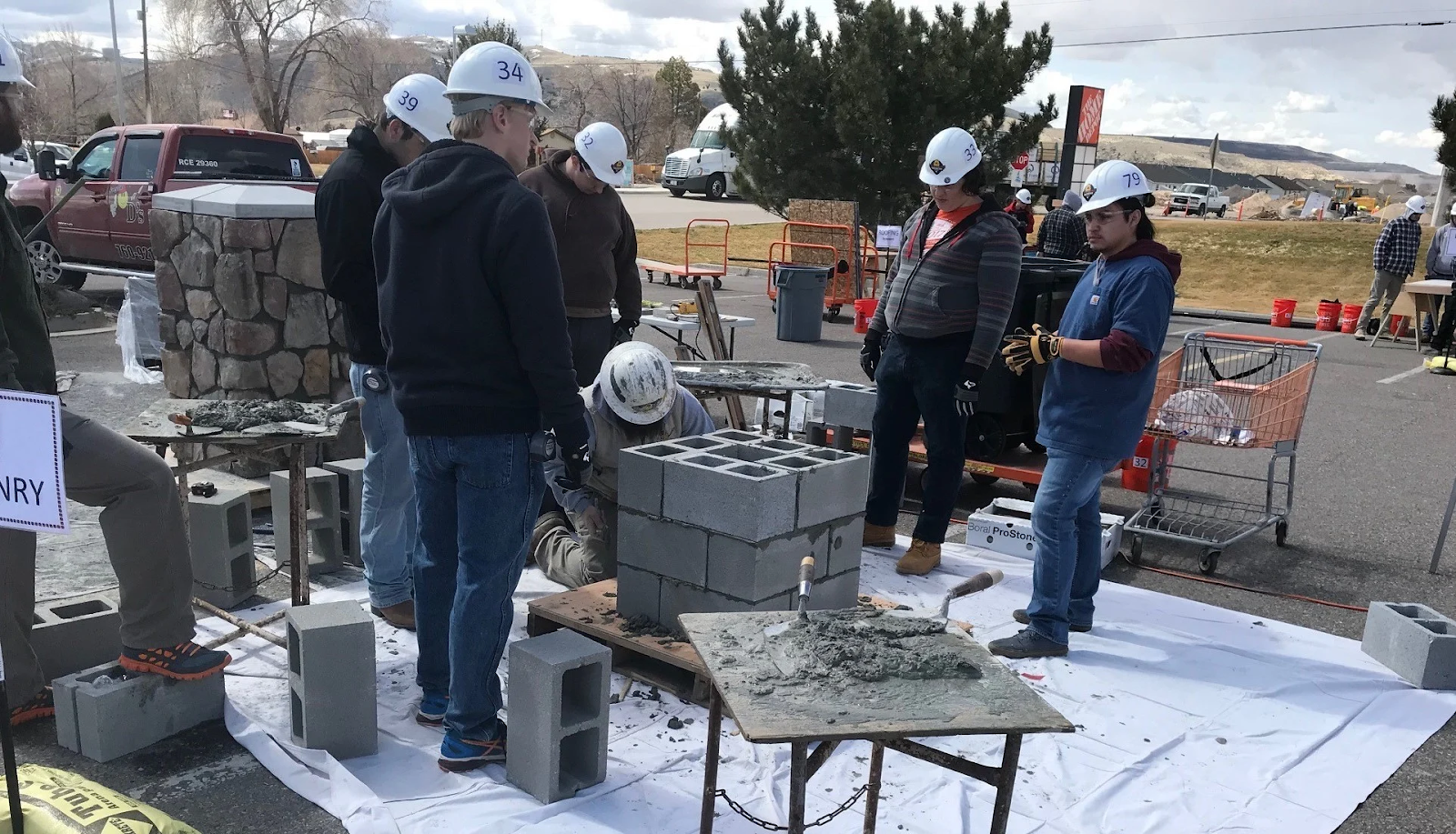 Participants of 2019's Construction Combine in Pocatello.
Photo credit: ISU CEWT
POCATELLO -- Idaho State University's Continuing Education and Workforce Training is partnering up with local contractors and sponsors in this year's Construction Combine.
Pocatello's 2021's Construction Combine will take place on March 31, 2021- April 2, 2021 from 7:30AM to 5PM at the Home Depot in Chubbuck, ID.
Due to the COVID-19 pandemic, last year's Construction Combine unfortunately had to be cancelled. However, this year promises to pick back up in full force.
"I am really excited to get this started again for this year," said Scott Stephens, ISU's Business Consultant and one of the leading forces behind the development of the Construction Combine. "Having to cancel because of COVID-19 was kind of a setback in what we want to do to support the construction industry. I am looking forward to this year and having the students, job seekers and contractors come together and make things happen."
Inspired by the NFL Combine, the Construction Combine attracts, trains and coordinates participants in hands-on-learning projects. Local contractors provide the training and mentorship they want to see in their employees, and then they have the opportunity to hire those workers who have demonstrated the newly-acquired construction skills they need.
CEWT developed this model to meet the shortage of skilled workers in the construction industry. It provides an instant workforce that local contractors can quickly assess and hire for their organizations.
On day one, trainees will participate in training sessions, covering topics including framing, concrete, electrical, plumbing, dry wall, flooring, siding, and welding. On day two, trainees will apply their new skills by collaborating with area contractors to build sheds. Once finished, these sheds will be donated to local disabled veterans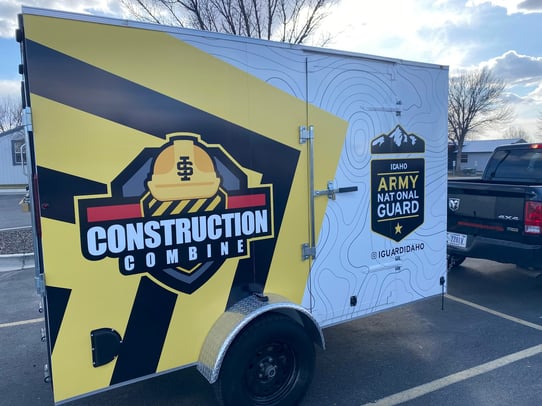 Tool trailer supplied by the Idaho National Army for the Construction Combine.
Photo credit: Shawn Edwards
Alongside Home Depot, key contributors to the Combine's success includes School District 25, Building Contractors of Southeast Idaho, Idaho Associated General Contractors, and the Idaho National Guard.
"This is such an amazing opportunity to get in front of the next greatest generation of trade skill workers. Trade skills are so important and the fact that these kids sign up and want to be a part of this – you have a guaranteed interested audience!" said SFC Annie Torres, Marketing Manager for the Idaho Army National Guard.
The Idaho National Army will be providing generators, tool trailers, and will be on site helping and mentoring in the event.
"We purchased a trailer last year before COVID shut everything down. Luckily, that gave us more time to get branded graphics on the trailer for advertising across the state," explained Torres.
Since the cultivation of the Construction Combine in 2018, CEWT has seen tremendous success throughout the state and its neighbors. In 2019, the Combine expanded to six other technical colleges in the region.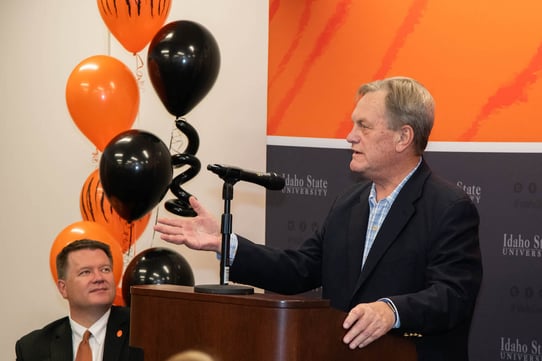 Congressman Mike Simpson at the podium during his visit to ISU on Nov. 7, 2019, with ISU President Kevin Satterlee looking on.
Photo credit: ISU
The Combine's success has also received recognition from Idaho's leaders. The 2019 Idaho Career and Technical Education (ICTE) Conference, 'REACH', held Aug. 5-8, presented a program award to ISU's Continuing Education and Workforce Training for the Construction Combine. On Thursday, Nov. 7, 2019, Congressman Mike Simpson, from Idaho's 2nd congressional district, entered the Combine into the Congressional Record.
"We give and cite in the Congressional Record periodically to great things that have happened in Idaho," said Simpson during his speech at ISU's Eames Complex. "When I heard about what was going on with this Construction Combine and what was going on with career and technical education in Idaho, which is so vitally important throughout the state, I thought the program deserved some recognition."
The safety and well-being of our community is our top priority. This year's Construction Combine will follow ISU and CDC guidelines to ensure the safety of all participants.
For more information on the Construction Combine, visit https://constructioncombine.org/.