With the Fall season right around the corner, the air is getting crisp and the drinks are getting hot. We all know nothing smells or tastes better than Fall! That's why I scoured the internet for the two best pumpkin recipes. These recipes are perfect to get you into the Fall spirit and are sure to make your house smell heavenly.
*Drum Roll Please*
Easy Pumpkin Cinnamon Rolls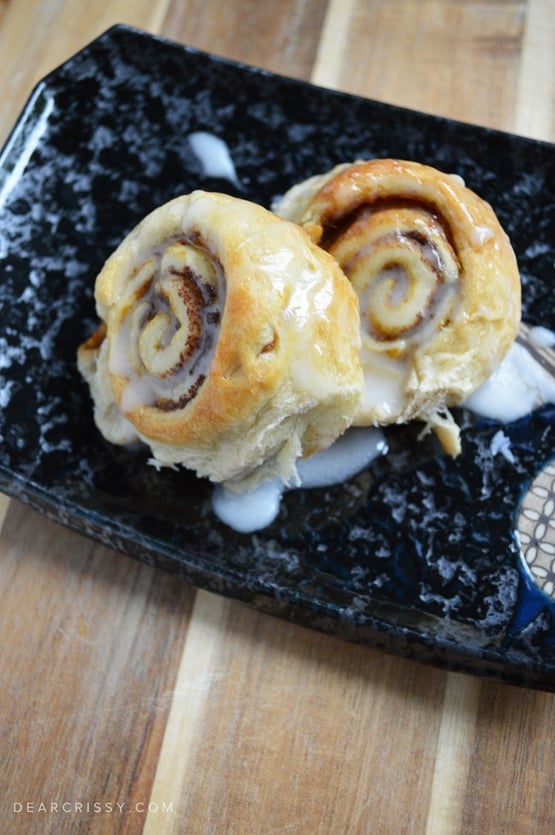 These pumpkin cinnamon rolls are extremely fast and easy to make and leave everyone's stomachs happy.
Kitchen ready? Taste buds ready? Let's go.
INGREDIENTS
1 can Pillsbury Crescent Rolls
¼ Cup Canned Pumpkin Pie Filling
2 Tablespoons Brown Sugar
2 Teaspoons Cinnamon
TO MAKE THE GLAZE:
½ Cup Powdered Sugar
2 Teaspoons Coconut Oil
Splash of milk of your choice!
DIRECTIONS
Preheat your oven to 400 degrees. Start by unrolling the dough on a piece of parchment paper and then smoothing it out. I pushed the cut lines back together so there would be one smooth piece.
Spread the pumpkin puree over the dough sheet and then sprinkle with the brown sugar and cinnamon. Tightly roll the dough from one end to the other until you have a tight and neat log.
Cut with a knife or use floss to slice the dough log into discs. Mine were all different sizes and still came out great.
Bake for about 9-14 minutes depending on how hot your oven is and how browned you prefer for them to be.
While they are cooling you can mix up the glaze. Simply add the coconut oil (you can warm/melt it in the microwave very quickly) in with the confectioners' sugar and then a tiny bit of almond milk at a time until you have a smooth and thick glaze. Drizzle over the cinnamon rolls when they have cooled a bit.
Recipe and pictures originally from http://dearcrissy.com/pumpkin-cinnamon-rolls/
Roasted Pumpkin Salad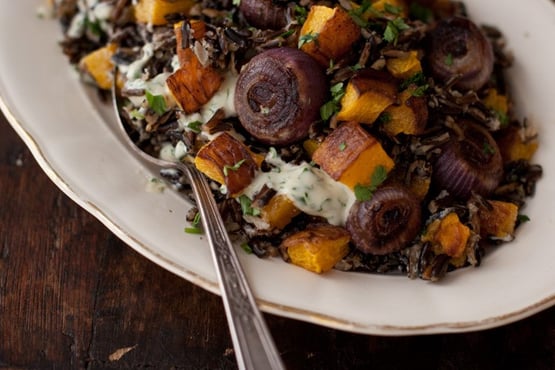 This recipe is great because it is SO different than the typical pumpkin dessert type flavors that we are all used to.
INGREDIENTS
3 Cups Pumpkin, peeled and cut into 1-inch cubes
Extra-virgin Olive oil
Fine Grain Sea Salt
3 Medium Red Onions, peeled and quartered
2 Cups cooked wild rice*
1/3 cup olive oil
2 tablespoons lemon juice
1/4 teaspoon salt
1 Tablespoon honey
2 Tablespoons warm water
DIRECTIONS
Preheat oven to 375. Toss the pumpkin in a generous splash of olive oil along with a couple pinches of salt, and turn out onto a baking sheet. At the same time, toss the onions with a bit of olive oil, sprinkle with salt, and turn out onto a separate baking sheet.
Roast both for about 45 minutes, or until squash is brown and caramelized. The same goes for the onions, they should be deeply colored, caramelized, and soft throughout by the time they are done roasting. You'll need to flip both the squash and onion pieces once or twice along the way - so it's not just one side that is browning.
In the meantime make the dressing. With a hand blender or food processor puree the sunflower seeds, olive oil, lemon juice, salt, and honey until creamy. You may need to add a few tablespoons of warm water to thin the dressing a bit. Stir in the cilantro, saving just a bit to garnish the final plate later. Taste and adjust seasonings (or flavors) to your liking - I usually need to add a touch more salt with this dressing.
In a large bowl, toss the wild rice with a large dollop of the dressing. Add the onions; gently toss just once or twice. Turn the rice and onions out onto a platter and top with the roasted squash (I'll very gently toss with my hands here to disperse the pumpkin a bit). Finish with another drizzle of dressing and any remaining chopped cilantro.
Serves 4.
* To cook wild rice: Rinse 1 1/2 cups wild rice. In a medium saucepan bring the rice and 4 1/2 cups salted water to a boil. Reduce to a simmer. Cook for 40 minutes or until rice is tender and splitting open, stirring occasionally. You'll have enough for this recipe and some leftover.
Photo and recipe from: http://www.101cookbooks.com/archives/roasted-pumpkin-salad-recipe.html
Let us know what you think of these delicious Pumpkin recipes in the comments section below!
Click here to learn more about how cooking can change your life.