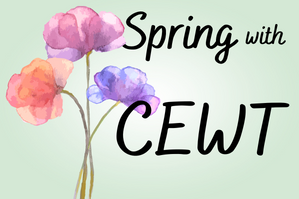 With spring soon approaching, a plethora of fun, new classes offered by CEWT are coming up as well. What better way to kickstart the 2023 spring season than to start learning something new?
If you are looking for some seasonal activities for spring, you have come to the right place. Here are a few of our upcoming spring-themed classes!
Spring Wreath Making
Beginning as early as this January, our Spring Wreath Making class is perfect for those looking for a crafty class to get ready for spring. All materials are provided for this class, which is perfect for anyone who wants to come join in on the fun. Registration information can be found here.
Spring Floral Arrangement
What says 'spring' more than fresh, beautiful flowers? Nothing, I would say. Join our Spring Floral Arrangement class this April to learn the basics of creating a floral arrangement for spring. All materials will be provided, so there is no reason not to join in on the fun. Enrollment information can be found here!
Spring Desserts
Are you looking to expand your culinary skills? Our Spring Desserts class may be perfect for you then! This two-section course will teach you how to make one of two delicious desserts that are perfect for the upcoming warmer weather. Both sections offer easy-to-make desserts that you will be able to enjoy all year long. For more registration information, check out our website here.
Fly Fishing
If you are wanting an outdoor class, our fly fishing classes may be perfect for you. We offer two different classes- Beginning Fly Fishing and Intermediate Fly Fishing- which are perfect for anyone who is interested in expanding their knowledge of fly fishing. For more information about our Beginning Fly Fishing course, check out our website here. Intermediate Fly Fishing information can be found here.
We are excited to share with all of you our 2023 spring courses! If you are interested in checking out the rest of our available courses, more information can be found at our website.