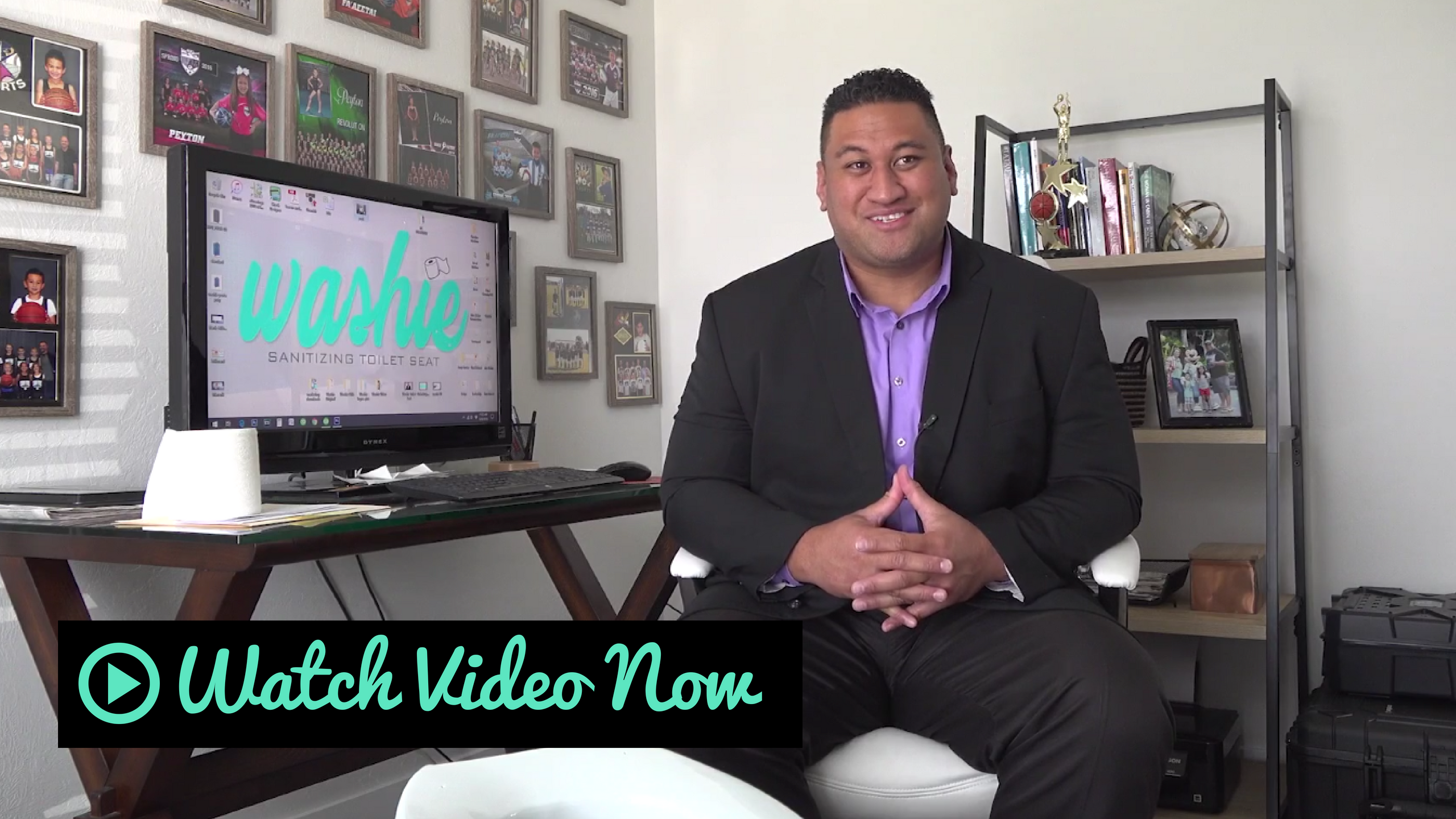 Most people would shake their heads in disgust and grumble at dirty toilet seats in public restrooms, and then abandon the stall altogether for one of a finer quality.
Pocatello County Clerk Robert Poleki took that type of experience while he was at the airport with his son and created something that could flush away those nasty situations.
"I came up with the idea when I was at the airport with my son," Poleki said. "He needed to use the restroom and he was four at that time, and he ran over to a stall, opened a door, and was about to sit on a disgusting seat and I saved him. That's where I came up with the invention."
Poleki's innovation, the Washie, is a self-cleaning toilet seat designed to be affordable and more efficient than the standard spray bottle wipe-down cleaning methods that many public restroom janitors are well familiar with.
At only $39 a seat, The Washie is easily installable—you just unscrew the bolts of the existing toilet seat and replace it with the Washie. Small holes at the back of the seat will fill with washer fluid from a cartage within the seat, and users only need to wipe down the seat with a few quick swipes.
Poleki, who is also an Idaho State University alumni, launched it at the beginning of May, and currently has $200,000 in sales in pre-orders. It will be shipped and sold in January 2019.
"There's been a huge response, a positive response to the Washie," Poleki said. "Some major companies have contacted me. Fortune 500 Companies have contacted me. One company that made it onto Shark Tank called me—it was the Squattie Pottie—so we'll see what they have in mind."
Poleki himself auditioned his self-cleaning seat for Shark Tank in January, and attended the convention in Las Vegas where thousands of others were pitching their own inventions.
"Here I am walking with a toilet bowl and a toilet seat in the middle of a casino to the convention room," he said. "And I'm kind of embarrassed, I don't know what response I'm going to get there. But the amount of people that came up to me and asked me questions—it took me at least forty five minutes to get from the parking lot to the convention room. It was a good response. People didn't expect me to be pushing around a toilet bowl."
His goal is to see the Washie in every public restroom, whether it be at a gas station, restaurant, hospital, or even a sports stadium.
Poleki said that local businesses such as fast food chains and restaurants support it, and during the first week he received calls from five fast food chains and a few gas stations wanting to pre-order the product.
"The local support has been tremendous," he said of the innovation so far.
Yet coming up with how the Washie would work wasn't smooth sailing at the start, and Poleki explained that entrepreneurship has been the biggest hurdle he's had to leap over in the process.
"The first day I thought about this thing, I went to the Home Depot and spent about four to five hours there trying to figure out how to make this thing work," he said. "I went through several multiple prototypes and the mistakes I've made cost me money. It's been a learning process, but a good process for me because the next thing I do I'll know what steps to take."
Now, he is on the search for someone to license the Washie, and he's hopeful that some companies will come forward.
Poleki has also dipped his feet in the filming industry, and discovered he has a passion for storytelling. After scouring YouTube tutorials and studying how the art of film worked, he entered film competitions—and started winning. His movie Malaga won best short film in the Hawaiian International Film Festival in 2010, and has nearly 78,000 views on YouTube.
"It's something I'm passionate about," he said. "When [The Washie] takes off, maybe I can not have a nine to five day job and do film full time."
Whatever route Poleki decides to pursue, however, his ability to develop an idea into a polished project will certainly come in handy.
"I've never done this before," he said. "I'm not in the toilet industry. I just thought of an idea and I went for it."
Idaho State University's Continuing Education and Workforce Training (CEWT) is interested in supporting businesses and entrepreneurs with opportunities to get their story out there. For more information, visit cetrain.isu.edu or call 208-282-3372.