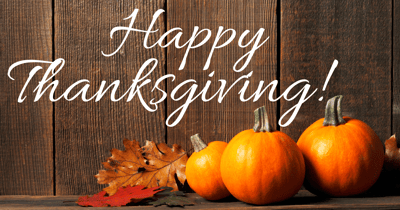 If there is ever a day to truly appreciate and be thankful for everything we have in our lives, Thanksgiving acts as the perfect reason to do so. Thanksgiving should serve as a reminder to show gratitude for all of the wonderful things we have in our lives.
However, Thanksgiving is not only limited to the United States. In fact, many other countries and cultures celebrate their own variation of Thanksgiving, and especially in very different ways. Check out some of the ways other countries around the world celebrate Thanksgiving!
Thanksgiving - Canada
Canada celebrates Thanksgiving on the second Monday of October. With their Thanksgiving celebration is a three-day weekend that is typically spent visiting loved ones or taking short vacations before it becomes too cold.
Canada's first Thanksgiving celebration can be dated back to 1578. Martin Frobisher, an English explorer, celebrated the safe arrival of his expedition through the Northwest Passage with a meal. After this initial Thanksgiving celebration, more celebrations were held to honor the explorers from Frobisher's expedition for finding the "New World," which eventually evolved into celebrations expressing gratitude over bountiful harvests in the fall.
Chuseok - Korea
Similar to Thanksgiving in North America, Chuseok is often referred to as "Korean Thanksgiving." Chuseok is celebrated on the fifteenth day of the eighth month of the lunar calendar. Typically, Chuseok is celebrated during the months of September and October. A detailed list of Chuseok dates can be found here.
Chuseok is celebrated with food prepared with fresh fruit and rice, but no Chuseok celebration is complete without songpyeon- a type of rice cake made of rice powder that contains a sweet filling. Chuseok occurs over three days and is intended to celebrate the fall harvest. Chuseok is considered one of Korea's most major holidays and is important to the Korean people.
Sukkot - Israel
Sukkot is a week-long Jewish holiday that is celebrated on the fifteenth of the Jewish month of Tishrei and after Yom Kippur. Sukkot recognizes the journey of the Jewish people escaping slavery from Egypt to the "Promised Land."
Sukkot is celebrated with the Jewish people building sukkah- a type of hut- in their gardens. The sukkah is built with two full walls and one partial wall, while allowing for visibility of the sky while inside. In the sukkah, families eat meals together and sometimes even sleep inside of the sukkah.
Erntedank - Germany
The first Erntedank celebrations predated North American Thanksgiving celebrations, before Europeans first arrived in North America. Erntedank celebrated the German farmers' fortune and bountiful harvest of the year. As a symbol of giving thanks, the German people would fill goat horns with grains and fruits, what we now know as a Cornucopia, which is still used in American Thanksgiving celebrations.
Erntedank is often celebrated amongst local communities with group gatherings and fairs, and is often celebrated with an abundance of food. Now, Erntedank is seen as a religious celebration that is church-organized.
Mid-Autumn Festival - China
Also known as the Moon Festival, the Mid-Autumn Festival is one of the most important celebrations in China. Mid-Autumn Festival occurs after the Chinese New Year, which celebrates the harvest of the season and encourages the abundance from the prior year for the upcoming harvest of the following year.
During the Mid-Autumn Festival, families usually gather for meals, as well as lighting paper lanterns and worship of the moon. Typically, the Mid-Autumn Festival is celebrated with mooncakes- a baked good that represents both prosperity and family.
From all of us at CEWT, have a happy Thanksgiving! No matter how you celebrate Thanksgiving, it is important to practice thankfulness and gratitude, not only today but everyday.
Sources:
Everything You Need To Know About Canadian Thanksgiving http://bit.ly/3UOpj8t
Chuseok - Everything you need to know about Korean Thanksgiving http://bit.ly/3EuNcLp
Sukkot and the Significance of Pilgrimage http://bit.ly/3EPPciv
Erntedank, Germany's Thanksgiving Holiday http://bit.ly/3tTBTHu
Mid-Autumn Festival (Mooncake Festival): Greetings, Traditions, Food, Stories… http://bit.ly/3tObvip