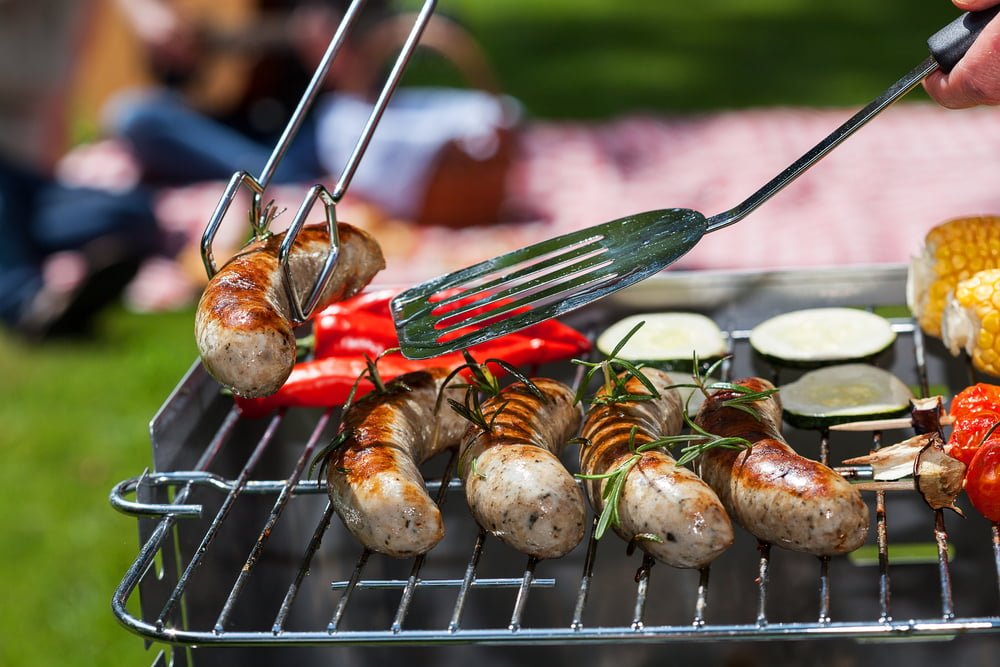 Ah, summertime. Swimming, campfires, hiking, and of course, backyard grilling. And with the pandemic on its last legs, it's looking more and more like the summer we've been needing for two years now has arrived.
But before you can invite over the friends and family, you need to have the best grill for the job. And we're here to help. There are quite a few types of grills to consider. Below is a list of the types, as well as some pros and cons for each.
Keep in mind, these aren't in order of best to worst.
Gas Grill
If you're like me, this is what you grew up with. Gas grills have a variety of fuel sources, from natural gas to propane. Clean-up is easy, and you have great control over temperature. That being said, gas grills can get expensive quick, and you are missing out on that smoky flavor other grills can offer.
Pros:
Heats up and cools down quickly
Extremely easy to clean
Superior temperature control
Some models have all the extensions such as extra racks, side burners, etc.
Cons:
Lacks the "smoky" flavor you may want
Lower quality grills tend to cook unevenly
A high end grill can be expensive (up to $4000 or more)
Charcoal Grill
The most basic and traditional of grills. Charcoal grills typically don't come with a lot of features, and provide that great "smoky" flavor that a lot of people love. Also, they tend to be less expensive than the alternatives. They do require quite a bit of practice to get right, since you have to constantly monitor while cooking, but they can give a more "authentic" backyard grill experience.
Pros:
Lots of extra flavor from the charcoal
Typically cheaper than other types of grills
Certain models are lightweight and easily portable
Great for smoking meats
Cons:
Takes more time to heat up (minimum of 20 minutes)
Constant vigilance is needed for even cooking
Fuel is an expensive, on-going cost
Fuel amount is the only way to control temperature
Takes some real practice to get it right
Kamado Grill
While these are charcoal grills, they differ in key ways. For instance, they retain heat much better due to their egg-shape and ceramic build, meaning juicier meats and less monitoring. Further, these are the best grills for the colder months. However, be warned. Kamado grills are the most expensive type of grills on this list. But if you are ready to invest, they can last you your entire life.
Pros:
Can cook for long periods of time without constant attention
Best for pizza and can also smoke and grill
Retains more heat than traditional charcoal, meaning less fuel consumption
Meats won't lose moisture to air equaling juicier meats
Can use all year round, super durable, and long-lasting
Cons:
Generally the most expensive type of grill
Weigh a lot, meaning little to no portability
The cheaper ones aren't made of ceramic, meaning slightly different performance
Once it heats up, it won't cool down easily
Takes quite a bit of practice to get right
Pellet Grill
The master grill of flavor. Since pellets come in different flavors, you can really customize how your meats and other grilled food tastes. Not only that, but pellet grills excel in even cooking and being able to set the temperature and move on. Like Kamado grills, however, these range on the more expensive side. Further, fuel is a constant, on-going cost. But if you have the budget, you can't go wrong with a pellet grill.
Pros:
Easy clean up
Lots of different flavor types depending on the type of pellet chosen
Highly customizable grilling options
Other than Kamado, is the best grill for winter grilling
Can have temperature set and done with like an oven
Really even cooking
Cons:
More expensive grill type
Fuel can be expensive and is an ongoing cost
Needs to be plugged in, limiting it's portability
Electric Grill
The most inexpensive and portable grill type. These grills are great for apartments or smaller spaces, and are easy to set up and clean. Not only that, they are sometimes considered the healthiest option, melting fat off of meats. Keep in mind that you won't get any of the "smoky" flavor you can with other grills, and, due to their smaller size, you won't be feeding a lot of people at a time. But if you need something cheap and easy to manage, electric grills are great.
Pros:
Powered by an outlet
Great for smaller places such as apartments
Easy to set up and clean
On the inexpensive side overall
Can cook healthier by melting off the fat
Cons:
Most don't have a lot of grilling space
No "smoky" flavor
Need an outlet
Limited to only grilling, so no smoking, baking, or anything else really
And that's it. Let us know what type of grill you plan on getting for this summer. If you are wanting to grill something you caught yourself, consider registering for our course, How to Catch Fish in Southeast Idaho & Everywhere Else. It starts up on June 15th.
Happy grilling!