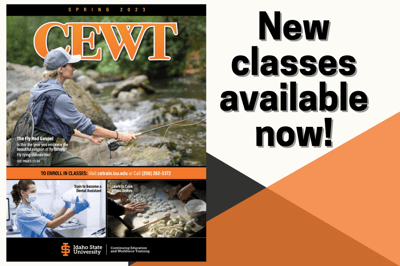 As 2022 comes to an end, it is time that we welcome the new year and everything to come in 2023. For many people, the new year is the perfect time to make personal changes, and what better way to self-improve than to try new things?
Here at CEWT, our spring 2023 catalog has just been released, meaning new classes for you to explore! Our classes are perfect for anyone who is looking to further their knowledge in a plethora of subjects- both for personal and professional gain.
Check out some of our newest courses that we have available this spring!
The Future of Leadership
As part of ISU's College of Business, our upcoming Future of Leadership class is designed to provide in-depth information about the leadership challenges that are being faced within the workforce. Dr. Anthony Klotz from the University College of London will be speaking at a masterclass that is offered alongside the Future of Leadership course. This eight-week class is offered from 5:30 PM to 8 PM on Thursday evenings beginning on January 12th through March 2nd, and has a fee of $1,500 which covers the masterclass as well. For more information about this class, check out our website here.
Ballroom Dancing
Looking for some lighthearted fun? Our ballroom dancing classes may just be the perfect source for you! While CEWT has had ballroom dancing classes in the past, we have a new Beginning Bolero course. In comparison to our American Tango and Foxtrot, our Bolero class is much slower-paced. All of our ballroom classes require a dance partner, with a $50 class fee per person. If you are interested in enrolling in our Bolero class, check it out here!
Amateur Radio Technician License
Our Amateur Radio Technician class is a great class for preparation for acquiring a ham radio license, but is designed for anyone who has interests in emergency communications, public service communications, and building equipment, just to name a few. This class is not a requirement for obtaining an FCC Amateur Radio License, but is a great chance to learn more about radio. This class is priced at $105, with an additional approximated class fee of $49. Class will start on January 14th and run through February 18th from 8:30 AM to 12:00 PM. To enroll in this class, click here!

We have a bunch of new classes available this spring for you to check out now! To view the virtual version of our Spring 2023 catalog, register here to download the catalog. To check out the rest of our classes being offered this spring, check out our website here.