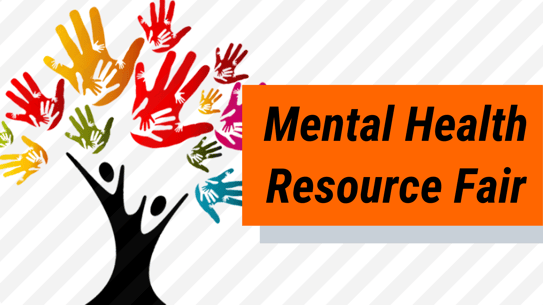 Idaho State University's Continuing Education and Workforce Training (CEWT) is collaborating with community partners to provide a Mental Health Resource Fair.
The goal of this fair is to offer attendees the opportunity to learn about available community and regional mental health resources, as well as learn valuable information on how to improve mental wellness through self-care from mental health professionals.
This event is FREE for attendees and registration is NOT required.
Drop in anytime from 10am to 4pm on Saturday, October 12th in the College of Technology (RFC) building!
The speaker agenda is as follows: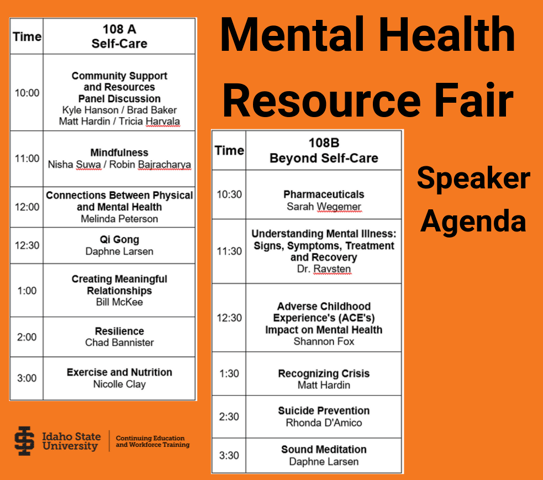 Click here to download a printable version of the agenda.
Be sure to check out our Exhibitors:
Southeast Idaho Behavioral Crisis Center
Community Mental Health Services
ISU
ISU Master Occupational Therapy
ISU START
ISU Bengal Pharmacy
Children's Mental Health/ Youth Empowered Services
Lifechange Associates
Your New Spring
Intune Idaho Yoga Studio
Portneuf Sangha
Inner Connected Wellness
The Visualization Healing Center
Southeastern Idaho Public Health -Home visit program
Family Service Alliances of SE Idaho
Grief Recovery Method Specialist
Southeastern Idaho Public Health
City Creek Counseling
Elevated Mental Awareness
ISU CEWT
Idaho Network 4 Mental Wellness
Bannock Youth Foundation
Blue House Spiritual Wellness Center
Hope and Recovery Resource Center
Mental Wellness Centers
Gateway Counseling
Gate City Boxing Club
Dragonfly Wellness
Planet Research Group
A New Way
Portneuf Valley Family Center
Fitness Inc
Mind You Body
Area Agency on Aging
For further information on the Mental Health Resource Fair, contact CEWT via e-mail at cetrain@isu.edu or by phone at (208) 282-3372.