Idaho State University's Continuing Education and Workforce Training (CEWT) is pleased to announce its 2nd annual Mental Health Resource Fair on Saturday October 3, 2020 in conjunction with Old Town Pocatello's Great Pumpkin Festival and Farmers Market.
The Mental Health Resource Fair is an educational promotion where the public can learn about available resources in Pocatello's community and to increase awareness of relevant issues concerning mental health and well-being.
This event is free for visitors and registration is not required.
The Mental Health Resource Fair will be held outdoors and attendees can drop in anytime between 9am and 2pm. Attendees will be able to visit the various booths to gather information and they can attend the presentations applicable to them. Indoor 15-minute presentations on relevant mental health topics and activities will be taking place every 30 minutes.
Attendees can also visit CEWT's table and enter for a chance to win a door prize.
Presenter Schedule: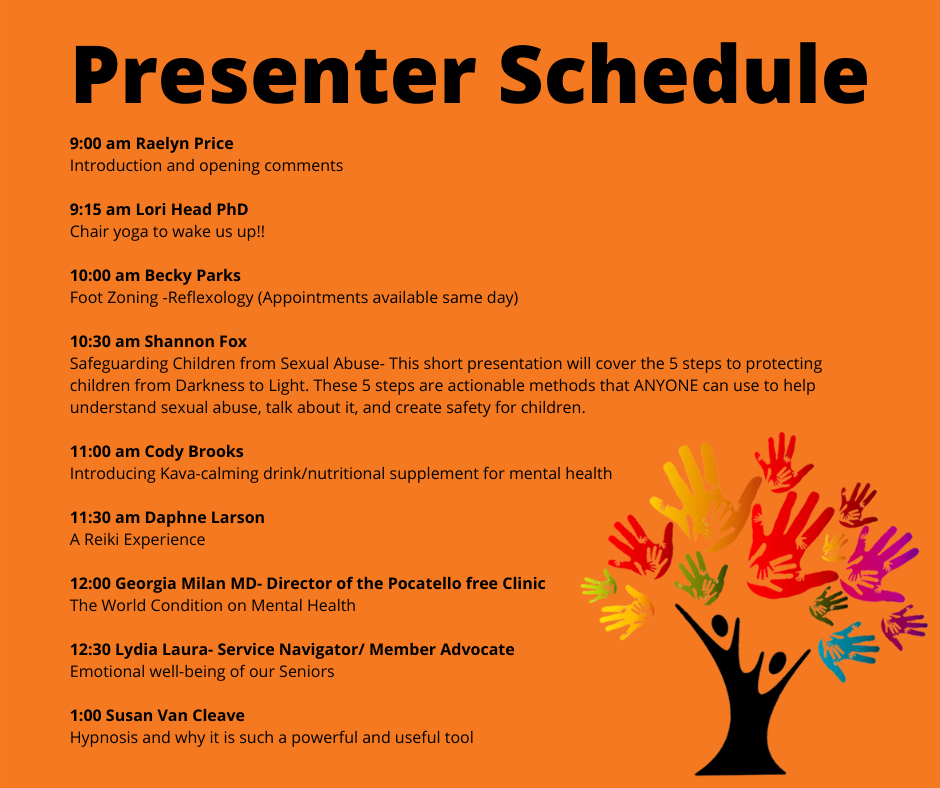 With the safety and wellbeing of all in mind due to the COVID-19 pandemic, ISU has adopted public health guidelines for the safety of our students and communities. Proper safety precautions, including facial coverings and social distancing measures, will be implemented. Click here for further information regarding ISU's COVID-19 pandemic safety precautions.
For additional information, visit cetrain.isu.edu or call us at (208) 282-3372.