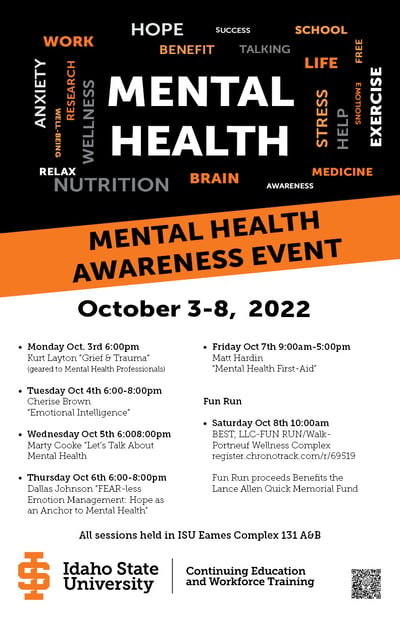 Join us for this free event and hear professionals speak on mental health issues in our community. Get informed about local mental health resources. Register: cetrain.isu.edu/mha/
Monday, Oct. 3rd, 6:00 pm- Kurt Layton "Grief & Trauma" (geared to Mental Health Professionals)-FREE
Tuesday, Oct 4th, 6:00-8:00 pm- Cherise Brown "Emotional Intelligence"-FREE
Wednesday, Oct 5th, 6:00-8:00pm-Let's Talk about Mental Health-Free
Thursday, Oct 6th, 6:00-8:00 pm- Dallas Johnson "

FEAR-less Emotion Management: Hope as an Anchor to Mental Health"-

FREE

Friday, Oct 7th, 9:00 am-5:00 pm- Matt Hardin "Mental Health First-Aid"-FREE
Saturday, Oct 8th FUN RUN/Walk-
BEST, LLC-FUN RUN/Walk-Portneuf Wellness Complex
register.chronotrack.com/r/69519
$25/person $75/family (includes 3 shirts).
Location: All sessions held in EAMES 131 A&B
A more detailed description of some of the events and speakers is below.
BIO
Dallas L. Johnson graduated from the University of Utah in 2009 with a Doctorate in Psychology. He has been licensed to practice psychology since that time. He spent several years at the Veterans Administration Hospital in Salt Lake City working in the PTSD clinic, inpatient unit, and with the neuropsychological assessment team. He worked in private practice for eight years in Utah providing psychological assessment and treatment for children, adolescents, and adults. He accepted his current position as a counselor at the BYU Idaho Counseling Center in 2014 where he loves working with the staff, 18 other full-time mental providers, multiple interns, and the students. He has presented on FEAR-less Emotion Management throughout the state of Idaho to youth groups, church groups, First Responders, and college students. He currently resides in Rexburg, Idaho with his wife and children and enjoys reading, minimalism, backpacking, running, floating the river, cross-country skiing, and spending time with his family doing any of those activities.
FEAR-less Emotion Management: Hope as an Anchor to Mental Health
Hope is not just a metaphor or a spiritual idea; hope is a literal part of the human brain and plays a crucial role in consciousness and well-being. When hope is atrophied, the fear response of the brain and body step in to try and manage life and this inevitably leads to anxiety, depression, and even suicide ideation. In this presentation, you will learn where hope is located in the brain, the role it plays in mental health, and how to grow hope. Growing hope increases a person's resiliency to the very real experiences of emotional, mental, and physical pain that are an inevitable part of living. We will also briefly discuss how to be of help to others when they are experiencing mental health challenges.
Mental Health First Aid
Just as CPR helps you assist an individual having a heart attack, Mental Health First Aid helps you assist someone experiencing a mental health or substance use challenge. In this 8-hour course, taught by a nationally certified Mental Health First Aid instructor, you will learn risk factors and warning signs for mental health and addiction concerns, strategies for how to help someone in both crisis and non-crisis situations, and where to turn for help. Learn about recovery and resiliency – the belief that individuals experiencing these challenges can and do get better, and use their strengths to stay well. Participants will receive an official Mental Health First Aid Certificate.