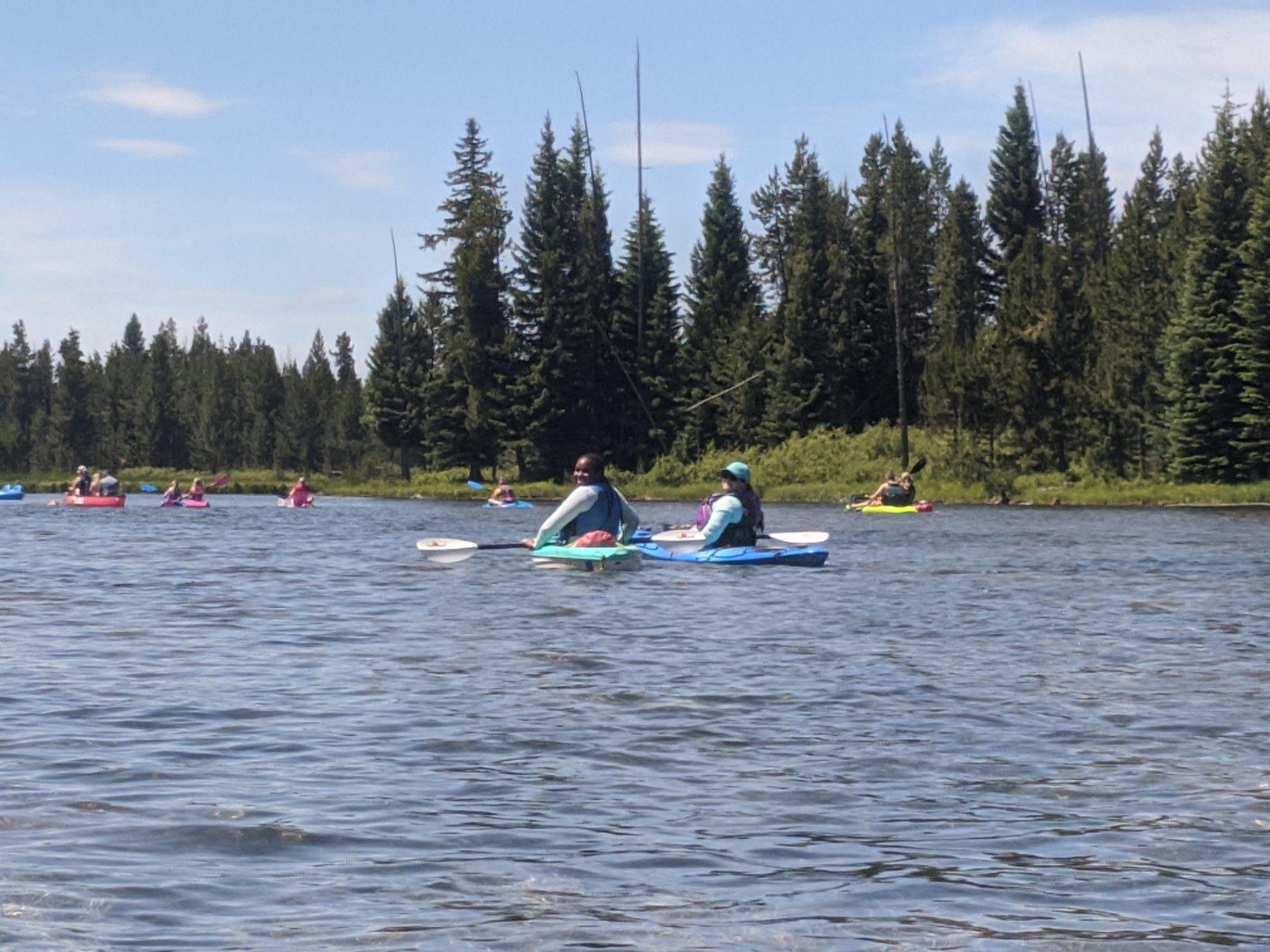 My first experience kayaking was an experience I will never forget. Kayaking wasn't an activity I ever thought I would engage in, let alone enjoy. Culturally, non-land activities such as kayaking and other water sports were deemed as unnecessary and borderline dangerous.
Also, as a non-swimmer, the thought of floating on a river, in a vessel that could easily tip no less, racked up some nerves I never knew existed. Still, in light of continued boredom brought about by the COVID-19 pandemic and my desire to experience all Idaho had to offer before leaving, when offered an opportunity to go kayaking, all I could hear myself say was "okay!"
The whole experience truly began when I got into the kayak and realized that for the first time in my life, I was on a body of water that wasn't a swimming pool. I proceeded to paddle along on the then shallow river and even got out of the kayak a few times to push the kayak. Eventually, I got to the deeper parts of the water, and then the fun began. I was able to move seamlessly across the river and it got so much easier as we got on the deep water. I thought I would be terrified when we got to the deep water since I wasn't a swimmer. Instead, the kayaking experience became more enjoyable there. My worries were alleviated due to how stable the kayak was and how smooth the float was going.
I learned how to use the paddle to turn left, right, and back on the shallow parts of the water so that when I got to the deeper parts, I had already gotten the hang of it. We kayaked for a while and eventually got to our "get out" spot some miles down. When I got out, I could feel my biceps being more defined because of the paddling and a glistening in my eyes as I realized what I had just achieved by braving the open water.
Indeed, kayaking was a fun and peaceful adventure-- and a way to sneak some exercise into my day! I believe that my experience kayaking was made so enjoyable because of a few tips and tricks I learned along the way that I'd like to share:
Go with an experienced kayaker: I went with a friend and her mother who have been kayaking for years. They were around me most of the time and that made me feel less scared. It is best to go with a person(s) who knows their way around a kayak if it's your first time. Going forward, I will still go with company because I truly enjoyed chatting with them on the river.
Wear comfortable and appropriate clothes: I wore a water shirt and some tights which were very comfortable. I did wear sneakers that got soaked which was a bad idea. Next time, I will wear a water shoe or a waterproof sandal, so as not to soak up a nice pair of sneakers. You should too.
Listen to the safety instructions: A life jacket was strapped onto me and I was told what to do if I fell into the river. I was also given bear spray and instructed on how to use it should the need arise (it didn't!). I was also instructed on how to use the paddle, as well as what parts of the river were deeper and what parts were not, so as not to get stuck. I listened very attentively and kept everything in mind.
Use bug spray and SPF: Rivers are water bodies and a lot of bugs and mosquitoes call rivers home. So, to avoid bites, I doused myself in bug spray both on my skin directly and on my clothes because I was told that they could bite through clothes. SPF is necessary since most rivers are a few miles so you will want to avoid getting sunburned by the end of the trip.
Keep an open mind: I think this was the most important thing for me. I uncharacteristically kept an open mind and it helped me be in the moment and truly enjoy the whole experience.
In conclusion, I think everyone should experience river kayaking at some point in their lives because it can be incredibly peaceful and you get to feel like one with nature. I for one am a kayak convert after just my first experience.
With that in mind, kayaks can be expensive to purchase for starters, but if you want to rent a kayak for a day or a weekend, you can do so at ISU's Outdoor Adventure center. They also organize some group trips as well. For more information, visit https://www.isu.edu/outdoor/rentals/equipment/.