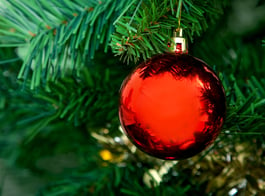 Now that we are officially halfway into November, the holiday season is ramping up big time. People everywhere are preparing for the holidays to come over the next two months, and with that comes a lot of excitement for the festivities of the season.
Here in Idaho, seasonal events are popping up everywhere, and they are definitely perfect for the holiday season. If you are looking for some seasonal fun, here is a list of attractions in Southeast Idaho to put you in the holiday spirit!
Festival of Trees - Pocatello
On Wednesday, November 16th, Idaho State University is putting together its Festival of Trees event. This is a four-day event taking place at the L.E. and Thelma E. Stephen's Performing Arts Center here on ISU's campus. The Festival of Trees event is a community-based event that features live musical performances, a holiday gala, and a children's tea party, among other events, with the intention of supporting our local community. Find more information about Pocatello's Festival of Trees celebration here.
Christmas Night Lights Parade - Pocatello
Located here in Pocatello, the annual Christmas Night Lights Parade will take place on Friday, November 25th at 6:30 PM in downtown. Judging for all entries will take place on Friday night right before the parade begins. The theme for this year's Night Lights Parade is "Lookout for Santa!" which will feature Santa Claus in the parade. For more information, check out this link with all of the details about the Night Lights Parade!
Santa's Workshop - Idaho Falls
For those interested in supporting local crafters and artists, the Santa's Workshop Craft Fair is taking place on Saturday, December 3rd from 10:00 AM until 4:00 PM, and is located at the Shilo Event Center. Santa's Workshop will feature a variety of local vendors, and as an added bonus, food will be available at the craft show as well. Information pertaining to the Santa's Workshop Craft Fair- as well as upcoming craft fairs- can be found here.
Rupert Square Christmas Lighting - Rupert
If you are looking for some true Christmas magic, "Christmas City USA," otherwise known as Rupert, Idaho, is the place for you. Every year, on the Friday after Thanksgiving, Rupert puts together a communal Christmas lights event featuring food vendors, music, fireworks, and even visits to Santa Claus. Check out information about the Christmas Lighting here at the 'Christmas City, USA' Facebook page to stay up-to-date about the holiday events taking place over the next few weeks!
Festival of Lights Parade - Twin Falls
Taking place in historic downtown Twin Falls, the Festival of Lights parade will take place on Friday, December 9th at 6:00 PM. The theme for this year's parade is holiday movies, and the parade will feature a contest for the best featured float. Concessions will be provided by local vendors during the parade as well. More information about the Festival of Lights parade can be found here.

For anyone interested in more seasonal events outside of the Southeast Idaho region, check out this list of events by Festivalnet here.