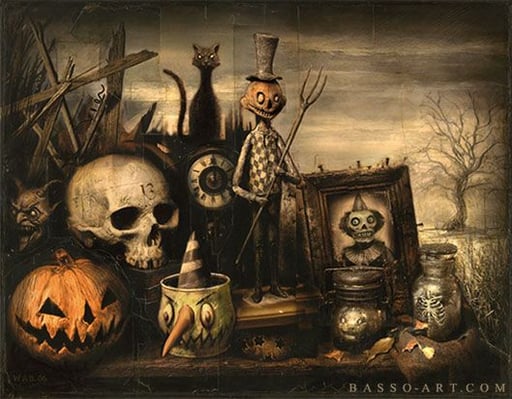 With October right around the corner, the season full of spooks and frights is almost here! Celebrations for Halloween have already begun, and there is definitely no shortage of activities here in Idaho. For those of us in Pocatello, we have a plethora of attractions in town and in the surrounding areas to keep us entertained during October.
For anyone looking for some fun this Halloween season, here is a list of local Halloween attractions to keep you on your toes this season.
Swore Farms - Pocatello
As one of the more mild attractions on our list, Swore Farms is a fun, family friendly attraction featuring a pumpkin patch, different mazes to explore, and even wagon rides. Swore Farms is run by a local family here in Pocatello who has been operating their farm for over 20 years now. Visitors are welcome to check out all of the features available at Swore Farms, but certain limitations to activities may be implemented according to time of day and weather. The giant corn maze is available during the day, and guests can pay to explore the maze at night as well. Swore Farms opened on Saturday, September 24 for the 2022 season.
SRD's Haunted Acre - Pocatello
Located here in the middle of town, SRD's Haunted Acre features multiple different levels of scariness, which make it perfect for visitors of all ages. Visitors can expect a guided tour of the haunted attraction as well as two different hayrides: a regular hayride and a haunted hayride that touches on haunted stories local to Pocatello. Opening night for the Haunted Acre is Saturday, October 1 and will be open every weekend throughout October for the 2022 season.
Lost Souls Attractions - Shelley
Composed of two attractions, Lost Souls features a haunted theater and hospital for visitors to explore. Both the theater and hospital are reported to be actually haunted, which definitely adds to the creepiness from both buildings. The theater plays "The Theater of the Lost Souls" every Halloween season, which is shown on the original stage in the theater. Lost Souls opened on Friday, September 23 for the season. More information about Lost Souls can be found here.
Burley Straw Maze and Pumpkin Patch - Burley
As another option for family friendly fun, the Burley Straw Maze is the perfect location for visitors of all ages. The Straw Maze features more attractions aside from the maze itself. Included with the maze is a hayride, pumpkin patch, zip line, slide, jump pad, and swing. On Saturday nights during October, visitors can explore through the haunted straw maze. From clowns to horror movie characters to crazed chainsaw men, the haunted maze combines the perfect amount of thrill and terror that keep you in constant anticipation. The Burley Straw Maze opened Friday, September 23, and runs through Saturday, October 29.
Planet Doom - Idaho Falls
Known as the largest indoor haunted attraction in Eastern Idaho, Planet Doom is one of the most notorious haunted attractions from the area. With creepy actors and frightening scenery, Doom is bound to scare anyone who walks through its doors. Despite only featuring one attraction, Doom is quite a large haunted house, taking a total of 45 minutes to completely finish walking through it. As an added bonus, all proceeds that Doom makes during the season will be donated to the Bonneville county D.A.R.E. program as well. Planet Doom opened its doors Friday, September 23 and will be open through Halloween this year.
Haunted Mansions of Albion - Albion
Labeled as the largest joint indoor/outdoor attraction in the Northwest, the Haunted Mansions of Albion are frequently visited by thousands of visitors every season. Featuring three main haunted houses and one building to explore solo, Albion is guaranteed to terrify you at every turn. On top of the attraction itself, Albion is reported to be extremely haunted, which is backed up by the countless ghost stories and ghost sightings reported by visitors. The Haunted Mansions of Albion will be opening on Friday, September 30, and will be operating every weekend throughout the month of October excluding Halloween. Tickets for this Halloween season can be purchased here.

For anyone who is interested in haunted attractions outside of the Southeastern region of Idaho, a more in-depth list of haunted attractions throughout the state by Visit Idaho can be found here.