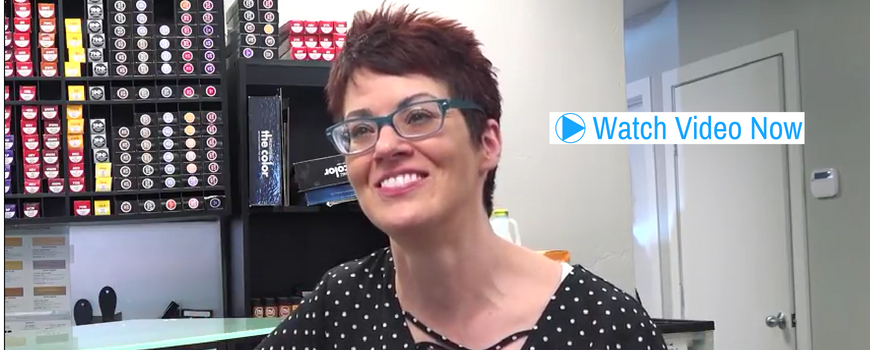 "Let your hair do the talking" is a popular quote among hairdressers, and it speaks the truth about advertising yourself and your personality to the world around you.
And if any hairdresser knows a great deal about advertising, it's Stacie Campbell, owner of the salon Hair Hub on Frontage Road in Chubbuck.
Campbell opened Hair Hub in 2014, and has combined her strategic skills of knowing what makes a business boom in the eyes of potential customers with her artistic skills of pleasing people with cuts and colors that make hairdos pop.
"Everything has to be consistent," Campbell said. "Your look your logo, your business cards, your menu, and your website. All the colors and fonts. That's how you create and develop a brand. And that's what I wanted to do with Hair Hub—take my vast knowledge of marketing and apply it on a local level."
When Campbell was in her twenties, she worked in North Carolina as a spot jockey and sold radio packages. She was also the station's number one salesperson for nearly six years. She has opened two advertising agencies, Dynamic Marketing Concepts, and later Campbell and Associates, and received a sales manager job at KPVI News Channel Six. But when the economy took a dive in 2008, she decided to try her hand at hairdressing.
"I chose [to attend the] Paul Mitchell [beauty] school in Rexburg because it's a well-known name," Campbell said. "It taught me hair theory, color, makeup, light esthetician stuff, but the bulk of it was hair, and a little bit of nails."
After finishing school, she had the option to work for a salon and rent a chair, which she wanted to avoid. "The person who owns the building has no input on [the employees'] continuing education or how they as individuals handle their clientele," she said. "You can't tell them when to work, what to wear, and if their client is unhappy, you have no say in how they handle their business inside your business. And I didn't want that."
What Campbell wanted was quality control, and to be able to manage a salon that ran smoothly and as a team. She sculpted Hair Hub to be just that—a unit that has standard business hours, a dress code, and employees who follow specific set rules.
She finds joy in serving her customers, believing that a portion of being a hairdresser also means being a counselor for customers. "How fun is that?" she said. "I get to make my guests feel so pretty. But you know women are so hard on themselves. I can't tell you how many times they sit there and say they look so old or so gray, and I just want to hug them and say, you know, you're beautiful. That's what I try and bring to my guests. Let's point out the positives about you!"
But as all new business owners know, it takes time getting it up to speed. Luckily for Campbell, her marketing skills have benefited the business already. When potential customers plug in 'hair salon in Chubbuck' in the Google search engine, Hair Hub is often the first one to pop up. This is because she updates her website frequently by keeping it fresh and relevant.
She gathers in the virtual traffic this way, and also monitors street traffic outside Hair Hub.
"When I opened my business, I made sure I had the traffic count here," she said. "I'm on Chubbuck Road and there are 10,600 cars that pass on this street every day."
This high number is attractive to business owners, as it allows potential customers to recognize her brand and recall it at the times they decide they want to visit a hairdresser.
Campbell is thrilled she's able to use her marketing skills for Hair Hub.
"I think if you're a good salesperson and you're intelligent and well-spoken, you can sell anything," she said. "And it starts with yourself, [your] ability and not having fear. I've never been fearful. Because I have the work ethic, I know without a doubt I'll be successful."
Hair Hub is located on 246 East Chubbuck Road and offers hair care, nails, make-up, and much more. Their office can be contacted at 208-237-9191 or at www.hisherhairhub.com.
Idaho State University's Continuing Education and Workforce Training (CEWT) supports businesses and entrepreneurs with opportunities to tell their story. For more information, visit cetrain.isu.edu or call 208-282-3372.