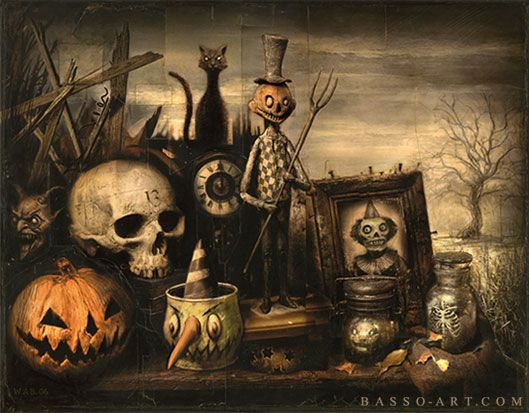 "Listen...With faint dry sound, like steps of passing ghosts, the leaves, frost crisp'd, break free from the trees and fall." —Adelaide Crapsey
Halloween is filled with the sweet tang of caramel green apples, the gunky innards of pumpkin guts, and the eerie frost that lines our window panels in the dark hours of a crisp morning. For many of us, Halloween is a holiday well associated with scents, flavors, and sensations of both the physical and the mental kind
It is also a holiday that is chock-full of events and activities in the community that you can jump into. In our lovely little town of Pocatello and the area around it, we have quite a few events that'll satisfy your itch for frights and chills. Check them out below!
Idaho State University's Department of Theatre and Dance-The Crucible:

Want a witchy, historical tale? Seat yourself at Steven's Performing Arts Center and immerse yourself in

Arthur Miller's famous tale based on the Salem witch trials. Plays October 13th and 14th.

Palace Playhouse's Into the Woods: Fairy tales, curses, and witches--this play provides a flavorful mixture to help satisfy your craving for all things mystical and magical. Plays throughout October, with a special dinner-and-a-show available on the weekends!

Pumpkin Decorating and Free Family

Fun

:

Decorate a wicked, frightening masterpiece and celebrate Family Services Alliance of Southeast Idaho on October 16th.

Family Fun with Mummies: For all little girls out there, costume your doll...as a mummy! For International Archaeology Day on Octobe 21st, the Idaho Museum of Natural History will be speaking about ancient Egyptian methods of mummification and more. Bring a doll to wrap up as a mummy.
Hogwarts Camp of Witchcraft and Wizardry: For all witches and wizards ages 11 through 17, this camp includes experimentations with brewing bubbling potions, learning defenses to protect yourself against the dark arts, and immersing yourself in the world of magic. Camp starts October 23 and ends October 25.
Zombie Laser Tag at the Idaho Museum of Natural History: On October 26th deck out in zombie attire and join in on a round of laster tag in the gallery. It's a perfect way to release spooked-out stress.
Zoo Boo at Zoo Idaho: With mad scientist labs, haunted treehouses, costume contests, bountiful amounts of candy and more, this is a jackpot for children to explore engaging child-friendly Halloween activities on October 28.
Ghostly Gathering: The 2nd annual Stewards of Children Initiative's community trick-or-treat gathering will be on October 28th

at the Mountain View Event Center. Stock up on candy the Saturday before Halloween!

Trick or Treating in Old Town: On Halloween Night invade Old Town as a ghost or ghoul and trick-or-treat from merchants and businesses who have goodies to satiate your children's appetites while keeping them safe!
These events will creep up on you before you know it. Endulge in some frightful and festive fun this Halloween season, and remember--if you hear the rustling outside your window, it may be something more than just the wind in the leaves.