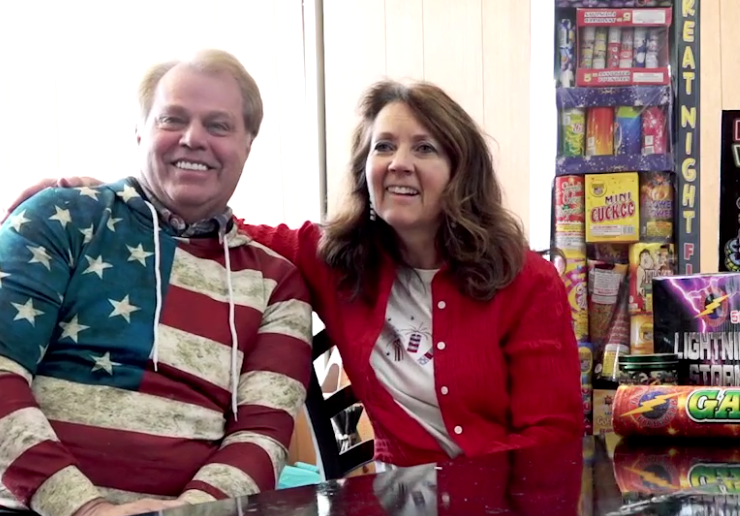 What else do you expect a professional clown's and professional magician's shop to sell but the bombastic sizzle and snap of fireworks?
Brenda and Don Pollard, owners of several entertainment-themed shops and services, have brought explosive fun to not just the community of Pocatello for decades, but the Boise, Caldwell, and Nampa areas as well.
"We own Family Fun Party and Family Fun Fireworks because we're just a fun family," Brenda said with a laugh.
Yet the sizzling sights they've brought to suburb sidewalks weren't in their initial business plan. It started when Don and his brother were hired to build firework stands for a firework company. When the company expanded, they asked Don to manage the Pocatello area, and both Brenda and Don took on the task of manning thirteen stands.
"This was our initiation," Brenda said. "We were younger than all of our stand operators, and we had a blast. And from then on it became just part of our lives."
The fireworks they sell have been a hit. Whether it be the puffs of crackling colors of the Flux Capacitor Fountain, or the Gatling Candle's vibrant streaks spearing into the air, the Pollards have a variety of collections that entice the eyes and ignite the hot July days with traditional summer fun.
"We have sparklers, handheld fountains, spinners," Brenda said. "Ground Bloom flowers are the most popular of spinners—and fountains."
The Pollards' passion for flares of fun also extend to their other talents, which they showcase in their businesses. Brenda is a professional clown, while Don is a professional magician.
Brenda first walked a mile in the shoes of a clown when she would dress up as one for Pocatello parades and birthday parties in the 90s. She enjoyed it enough that she took the next step: professional clown school.
She entered into a four-week program in South Carolina where master clowns from the Ringling Brothers trained her in the art of clowning around.
"To be there with those icons and learn at their feet was just amazing," She said. "Leon McBride, lead master clown of that college told us, 'You know I'll work for years and years and years, and then one housewife will show up and learn to juggle and unicycle in one week', and that's exactly what I did."
Don also immersed himself into the world of entertainment. When he was in the 9th grade, his teacher showed him a magic trick that inspired Don to dabble in the craft of sleight of hand. Later, when he was a young man, he and his brother set up shop in a ten-by-twenty-foot room near 1st Street—a shop that came to be known as Tee Pee Toys.
"It started out as a novelty business," Don said. "We just wanted to sell pranks."
Yet as demand for decorations, balloons, and party supplies increased, Tee Pee Toys quickly expanded and helped forge the way for the Pollards' current businesses today.
Don also went to China to learn how fireworks were manufactured.
"They have to separate the different chemicals and explosives so that if one goes off they won't affect the rest," He said. "Everything is in bunkers. And if you've ever taken a firework apart you'll see red clay at the bottom. It's actually dirt from China they use to give the firework some weight and stability."
They do caution that people need to be aware that fireworks are combustive and hazardous if wrongly used.
"Don't try and create your own or alter the intent of the fireworks," Don said. "People like to make their own concoctions. A lot of the time when that happens a problem occurs. Someone gets hurt or starts a fire."
Brenda also advises that parents should supervise their children to prevent accidents. "When fireworks are purchased, hide them from your kids just like you would with guns. They should be saved for their appropriate time to be lit."
The Pollards have sky-high aims to continue delivering the flash of a grin and the flash of fireworks to the community. "We try to create a family tradition," Don said. "We want fireworks to be a tradition that families do every year, or as a neighborhood type event."
For anyone interested in summer fun events, visit certain.isu.edu or call (208) 282-3372 for more information.