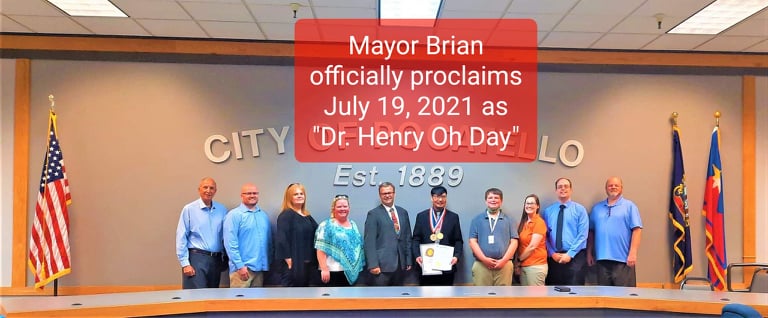 July 19th has become a significant day for Dr. Henry Oh.
Working right here at our local Idaho State University, Dr. Henry Oh is one of the most accomplished people you could ever meet. He is the Department Chair and Clinical Professor of Health Occupations in the College of Technology, a lifelong learner and teacher, and now, a world-record holder.
A World-Record Holder and So Much More
Dr. Henry Oh has been recognized as the world-record holder of "The Professor Who Earned the Highest Number of Post-Nominal Credentials". He has earned 42 professional titles, including thirty-three (33) board credentials, six (6) academic degrees, and three (3) honorary doctorates.
He also has received five national and international recognition and awards as a teacher including the U.S. Professor of the Year in Health Sciences in 2020, and the Master Teacher of Honor from Kappa Delta Pi International Honor Society in Education in 2013.
As for his latest recognitions? On July 19th of this year, the mayor of Pocatello proclaimed the day as "Dr. Henry Oh Day". It was at this proclamation that he received the world-record medal from "Little Mayor Henry" as well as the U.S. Presidential Medal from Mayor Brian. For Dr. Oh, it was truly a momentous occasion.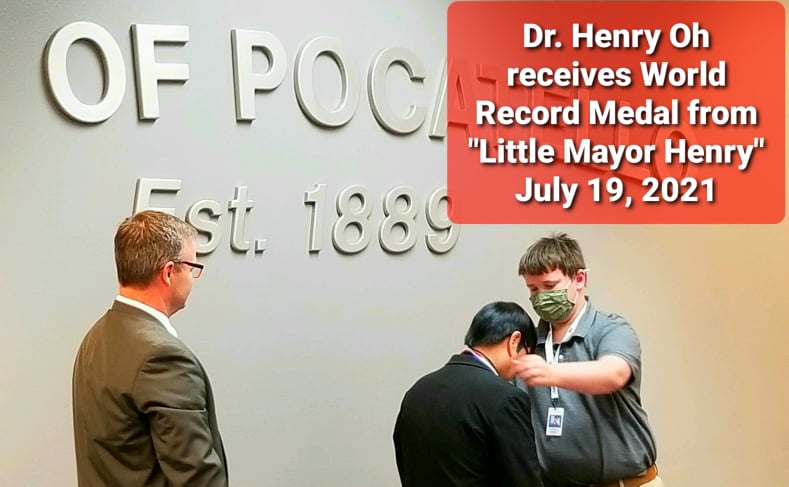 Of his feelings that day he states, "Today, July 19, is a very significant day because it is also the birthday anniversary of my late mother, Vicenta Saavedra Oh. I am thrilled that our little mayor, Henry, was also present. He has the same name as me, and my late dad's name is Henry Oh, Sr. The memories of my late parents have been represented today in this proclamation."
His family, both by blood and by service, are most important to him. His education and experience has allowed him to earn not only official recognition, but also the respect and love of those around him.
A Lifelong Learner
The son of the late Henry Oh Sr. and late Vicenta Saavedra Oh, Henry Oh grew up and lived in the Philippines and Canada, and currently resides in the US. He grew up speaking a Spanish creole.
Growing up, he would watch his cousins play during their piano lessons. His parents weren't able to afford lessons for him, but after his cousins finished, he would copy them as best he could. This effort, day after day, week after week, led to him slowly improving on his own. After years of hard work, he entered a competition in high school, one he ultimately won. Even from that young age, he had a desire to learn and better himself in whatever he found engaging.
And piano was far from the only thing he enjoyed. Growing up, he wanted to become a physician. However, even after passing the medical college entrance exam twice, he wasn't able to fulfill that dream due to not being able to financially afford it. He states that if he had been able to follow that path, he would be a surgeon today.
He didn't let those setbacks stop him, however, and he graduated with a Bachelor's degree in Medical Laboratory Technology from the University of San Tomas (UST), which Dr. Oh states is one of the top three universities in the Philippines. From there, his learning has continued to today.
A Lifetime of Experience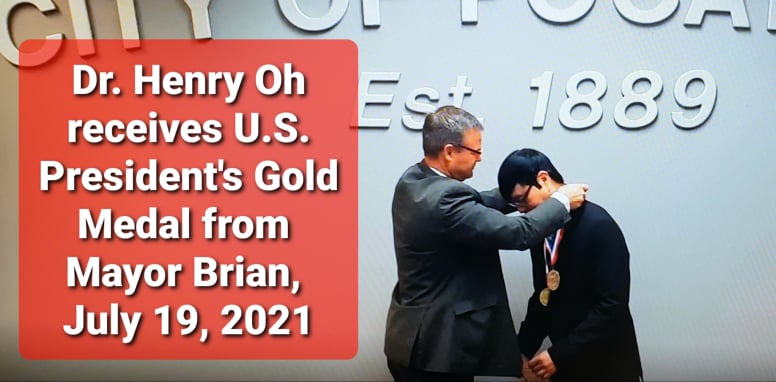 As Dr. Henry Oh continued his education, gaining more academic degrees as well as board credentials, he also gained experience in the field. He was hired by a British company to work in the Middle East during the Gulf War in the 1990s. While there, he completed his training and earned an associate degree in respiratory therapy. His clinical experience was mostly in trauma, disasters, and critical care.
He says that his time in the Middle East helped him not only grow as a person, but also helped him with his teaching career as it provided a diverse population for him to learn to interact with and understand different cultures. He has also traveled to Europe, including France and the United Kingdom, as well as parts of Southeast Asia.
Since 2005, he has been the Director and Professor of Respiratory Therapy at multiple colleges, and in 2018, he moved to Utah to become the Associate Dean of Business, Healthcare and Technology in the School of Applied Technology at Salt Lake Community College. He then accepted his current position here in Pocatello at Idaho State University.
He is the Department Chair and Clinical Professor for the Health Occupations at the College of Tech. The position manages and supervises ten programs in the health occupations including nursing, pharmacy tech, respiratory therapy, and physical therapy, among others. He states that it is his expansive knowledge and education that has allowed him to get to this point.
In his own words, "My education has adequately prepared me for my role as an educator, leader and clinical practitioner. Having earned certifications in different areas or fields have enabled me to become multi-skilled so I can better serve my community."
And he truly does see it as serving those around him. He views the faculty, staff, and students he oversees as part of his family, and is willing to go the extra mile to help them. He finds great personal satisfaction in helping them grow.
How grateful we are to have him here in our community.