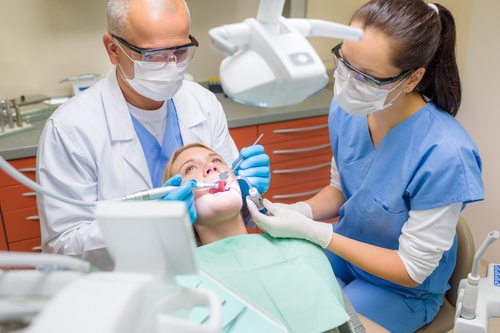 Are you a dental assistant looking to move up in life and become a dental hygienist? If you answered yes, but aren't quite sure how about making the jump, keep on reading my friend. If you are dental assistant looking to learn some new skills, you might want to keep on reading too.
Now some of you may be thinking, what exactly is the difference between a dental assistant and a dental hygienist? Let me tell you. Assistants are responsible for preparing patients and equipment along with helping with the office management side of things. Hygienists will examine patients, obtain health history, clean teeth, administer local anesthetics, remove sutures, and chart dental conditions for the dentist.
If that didn't get you excited, listen to this. The median salary for a dental assistant is around $36,940, while dental hygienists have a median salary of around $72,910. This is due to the fact that assistants graduate from an accredited program with a certificate or diploma, whereas hygienists usually need at least an associate's degree to practice.
Dental hygienists are projected to have a 20% growth rate through 2026 and dental assistances are projected to increase 19% by 2026, so there is projected to be plenty of jobs of both professions to go around.
But beware, if you are dental assistant looking to further your skills to work up to a dental hygienist position, there are just a few hoops to jump through. While you need to attend a dental hygienist school, you will also need to pass a licensure exam that is different for each state.
But never fear, my friend! Starting in April, we have a few courses of expanded functions that you can choose from to help you get on your way. To give you the low down on how we can help, here's a list of four classes we have available to help diversify your skills as a dental assistant.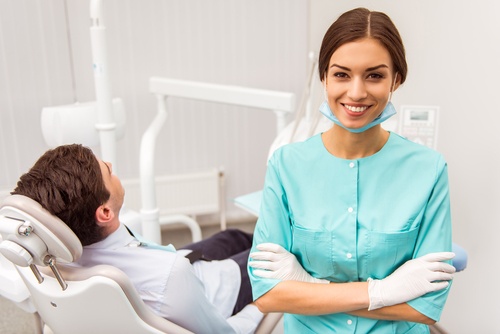 Temporary Crown Restoration: A temporary crown is a provisional short-term restoration cemented in place with a soft temporary dental cement until the definitive restoration is complete.
Coronal Polish & Pit and Fissure Sealants: Fissure sealants are plastic coatings painted on the grooves of the back teeth. This forms a protective layer, keeping food and bacteria from getting stuck in the tiny grooves in teeth that cause decay.
Aiding in the Administration of Nitrous Oxide: The combination of inhaled nitrous oxide and oxygen helps manage pain and anxiety when used appropriately. Having a rapid uptake and recovery, nitrous oxide is the safest sedative used in dental settings.
Use of a High Speed Handpiece to Remove Orthodontic Cement or Resin: Orthodontic Resin is the material used to construct orthodontic applicants such as retainers. It is also used to secure fixed orthodontic devices.
So what are you waiting for? Sign up today and let us guide you in becoming a more skilled dental assistant and start your journey to becoming a dental hygienist. If you are interested in learning more or signing up for any of these courses, call (208) 282-3372 or visit cetrain.isu.edu.