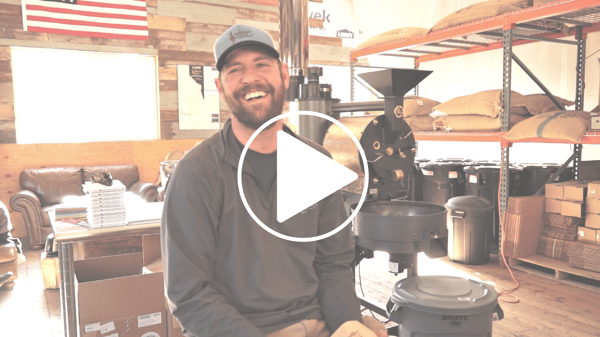 Click the image above to view our full interview
Homemade bread or bread on the shelf? This is the comparison owner Travis Voskamp makes between his business Leapknot Coffee Roasters and the type of coffee grounds you find at your local grocery store.
And the hand-crafted, personal quality of Voskamp's business doesn't extend just to his coffee ground products. Throughout nearly every aspect of Leapknot, visitors can experience the nostalgia of the hard-working family business and warm customer service within the very walls of Voskamp's business, which he co-owns with his wife, Megan.
How? Well the building sits at the base of the old Caribou ski resort many locals may remember shut down in 1986—but through creative design and insight, the Voskamps brought the rustic spirit of the mountain back to life in their own little way.
Those who visit Leapknot will be pleased to discover that the building is a combination of the old and the new. Pale red and light blue planks, repurposed from old ski outposts and an old house from the area, line the inside walls. A pair of old-fashion wooden skis sits cozily between an iron-cast fireplace and mauve leather couch. There is even an old rusted "Stop, Ski Area" sign ingrained into the wall, a momento and head-nod to the area's rich history.
"We wanted Leapknot to have a connection to this place," Travis says regarding the decision to incorporate the tangible pieces of the old ski lodge into Leapknot's building. "We wanted to tap into the nostalgia of the locals who used to visit the ski resort and enjoy winter recreations here. We wanted them to remember their past days and stories of coming here."
Yet while there are plenty of tokens of the past to be enjoyed while visiting Leapknot, there are unique and fascinating aspects the Voskamps have also brought to the area—such as the coffee roaster. Beautiful with its black and gold design, it roasts the coffee beans to the perfect shade of warm or dark brown, roasting the batch a precise amount of time to capture the flavor according to the type of bean.
Once the coffee beans are cooled, they are distributed into personalized coffee bags. "We wanted the bags to look distinct, look cool, feel right, communicate values," Travis says. And they do. Each bag highlights the qualities and values that the Voskamps want customers to take away from Leapknot, such as taking a leap of faith to something you may be afraid of doing.
"The heartbeat of the roastery is taking a leap of faith," Travis says. "There's this expanse in believing that everyone has to face."
The bags also imply that it's important to work together as a family instead of as strangers. "Overall, we want to connect with people," Travis says. "We've stood on shoulders to get where we are, and we want to let people know that they matter."
Leapknot is also a welcome new layer to the community of Pocatello. Because of Pocatello's status as an old railroad town, its history is richly layered with businesses that have come and gone. Leapknot brings friendly values and fresh faces to one of Pocatello's beloved, historical locations and revitalizes that spirit of camaraderie that used to inhabit the old ski area, churning to life a portion of Pocatello that needed a reawakening.
The Voskamps focus on bringing this good quality to the area and serving the community and beyond. "My dad used to say that a good deal is not a good unless it is a good deal for everyone," Travis adds, "Overall, being up here, you feel like you're part of something a lot bigger than you."
Located on 6071 W Buckskin Road, Leapknot has business hours every Wednesday from 9:00 am to 6:30 pm in which visitors can come view the building, witness first-hand how the coffee grounds are roasted, and purchase a bag of freshly-made beans. They also have distributors for locals within the area, and shipping options for out-of-towners.
If you're looking to launch a business of your own, ISU Continuing Education and Workforce Training will be offering entrepreneurship courses in Spring 2018 such as Marketing Bootcamp and Facebook for Beginners. To learn more visit cetrain.isu.edu.