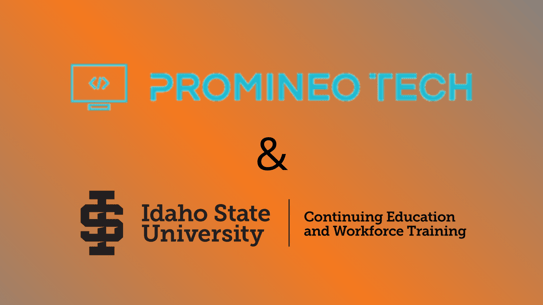 Learn to code in 18 Weeks at Idaho State University
Continuing Education/Workforce Training
Idaho State University Continuing Education and Workforce Training to Offer Online, Part Time Tech Education to Strengthen Post-Pandemic Workforce
An 18-Week Coding Bootcamp can change your life. Idaho State University Continuing Education and Workforce Training (CEWT) has partnered with Promineo Tech to launch intensive coding bootcamps tailored to job seekers looking to work in the booming tech industry. Whether you are starting your career, switching careers, or returning to the workforce, these bootcamps are geared toward anyone looking to gain in-demand skills.
Here is a look into the bootcamp options:
Front End Software Developers build the pieces of applications and websites that users see and interact with. This involves creating components that look good and provide functionality when a user interacts with them. It also involves interacting with the Back End applications and displaying data in an aesthetically pleasing manner.
Back End Software Developers are in charge of building applications that do the behind-the-scenes work. This typically involves receiving requests from a Front End application, processing the request, reading and writing to a database, and responding back to requests from other applications.
Having an education in technology is especially advantageous during this time where web development is projected to have a 27% growth by 2024, and is listed as one of the fastest growing careers in the current economy. (Bureau of Labor and Statistics).
"We believe technology bootcamps are another vital resource for those looking to upskill and improve their chances of employment" says Gary Salazar, Director, CEWT, ISU. "Bootcamps such as those provided by Promineo Tech are aimed directly at anyone wanting to develop their passions and skills into entry level positions and pursue strong IT career paths. We understand this is not for everyone, but for those seeking convenience, accessibility and the opportunity to learn from home, this online format accompanied by solid mentoring from experienced professionals makes this a convenient and well resourced opportunity."
Being a part of the bootcamps grants access to a wide range of career services and networking opportunities, and you instantly become part of the online community with other students, instructors and professionals. The programs are fully online and operate on a part time schedule. Each week consists of live, personally-tailored micro lectures and the chance to take part in office hours and one-on-one mentor sessions.
"We designed these bootcamps in a unique way to enable students to have an individualized learning experience", says Nick Suwyn, President of Promineo Tech. "Flipped classrooms, small instructor-to-student ratios, one-on-one mentoring sessions, and multiple office hours enable students to get support specific to their needs. We don't believe in one-size-fits-all education, which is why we like to say we teach people, not lessons".

Enrollment for the next Back End and Front End cohorts (Nov. 17 and Oct. 21 respectively) are currently live.
To learn more about attending a bootcamp, visit https://www.promineotech.com/isucodingbootcamps

About Idaho State University Continuing Education and Workforce Training: Continuing Education and Workforce Training (CEWT) is a department of the College of Technology at ISU. CEWT is a leading provider of non-credit classes and training programs throughout Idaho's southeastern region. The faculty and staff at CEWT have real-world experience in their fields and work to prepare individuals with the skills and knowledge needed to be competitive in the workforce.
About Promineo Tech: Promineo Tech is an Education-as-a-Service provider that partners with Community Colleges to offer coding bootcamps and related technology training. Their mission is to make technology education affordable, accessible, and low risk for everyone so that anyone has the opportunity to improve their lives through learning. They teach people the skills needed to enter, and be successful, in high-demand, technology fields such as the software development industry. Learn more at PromineoTech.com.