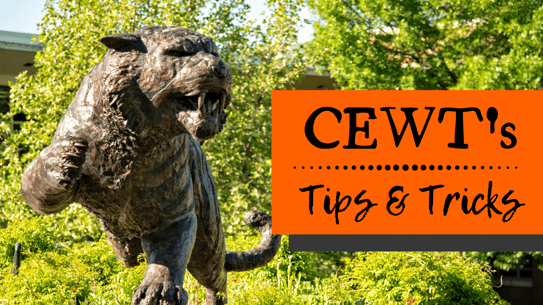 Ready for a new school year? Dreading the first day of class? The great news is that there are many resources for students on and off campus to help make your semester less stressful and more successful. We put together some ISU resources for you to check out!
The best place to start is by visiting your advisor and having a chat about your progress and eventual career goals after graduation. If you don't know who your advisor is contact the Academic Advising Office. By visiting your advisor, you are able to feel more secure that the classes you are taking will pay off after your finally received the magic ticket to the real world-- a.k.a, your diploma.
If you are dreading a class before even setting foot in the classroom, it might be a good idea to sign up for tutoring services with the Student Success Center, or SSC, from the get-go. This can help create some extra accountability for you to study smarter and well as provide you with the additional support and encouragement to make it through a daunting subject ...like Chemistry or Statistics. Connect with SSC and give yourself a major stress reliever!
Taking online classes provides unique challenges to students. If you are taking an online class or an online student exclusively, you can also take advantage of the SSC's online tutoring services to give yourself an advantage. There are many tips for learning online, but one of the most common is to ensure you are taking the time to be an active student that is participating and keeping up with the class work.
While it is easy to procrastinate, it isn't a good idea. Students can fall behind very quickly and will find it difficult to catch up. Time management, being organized, and making sure you are completing work and studying in a timely fashion are key to success in online courses. Visit ISU's General Tips, Skills, and Readiness Tools for Being a Successful Online Student for more suggestions and resources.
Along with good study habits and staying on top of homework, staying healthy is essential to continued success in classes. Exercising, eating right, and taking care of your mental health are all very important. ISU has several departments to help you ace self-care. ISU Wellness has resources for students with their focus on helping students build healthy balanced lifestyles.
Being healthy also means focusing on your mental health. The ISU Counseling and Testing services are available to ISU students and can help relieve stress, easy anxietes, and keep you grounded.
There will also be a Mental Health Fair on the Pocatello campus in October. This resource fair will be from 10am to 4pm on Saturday, October 12th in the College of Technology (RFC) building and will host a range of resources to help improve your mental health.
The final way to stray healthy is to head to the ISU Health Center if you are feeling under the weather. With affordable office visits and discounted services, it is a great way for students to ensure that they are able to receive medical care in non-emergency situations. They also have a pharmacy that offers over the counter medicine as well as prescription services.To schedule appointments, see the Health Center's home page.
Giving yourself the tools for success and taking care of your well-being can make this the best school year for you, whether it is your first semester of college or your last!
And last of all-- have fun and good luck!
If interested in taking CEWT's non-credit courses, visit cetrain.isu.edu or call our office at (208) 282-3372.