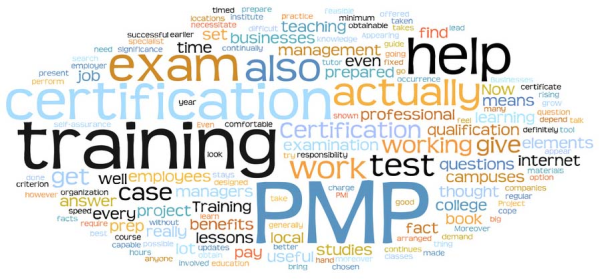 If you are looking to take your career in project management to the next level, the Project Management Professional certificate is the perfect place to start.
The PMP certification is recognized world-wide by employers and project managers, and passing the test and obtaining your certification will benefit you tremendously.
The 200 question multiple choice test covers all facets of project management, and takes almost 4 hours to complete.
This test may sound intimidating, but whatever your fears, you should set them aside. You are not alone. There are many resources to help you pass the PMP certification exam.
Further, there are many ways to study for and pass the exam. The first step is to get a general overview of the exam.
Overview of the PMP Exam
There are five domains that are examined on the exam. Each domain contains a number of tasks, a body of knowledge and a set of skills associated with it. Your job will be to master all this content in order to answer multiple choice questions about project management.
The five domains of project management are:
Initiating the Project: This includes developing a project assessment, defining the scope of the project, identifying key stakeholders and setting the limits of the project. It also includes the development of a project charter and obtaining approval for the project. 13% of the questions on the exam will focus on this domain.

Planning the Project: This section will comprise 24% of the questions on the test. In this section, questions are focused on how to develop project deliverables, create the work breakdown, and develop budgets and schedules. It also asks about human resources, communications, procurement, quality assessment, change and risk.

Executing the Project: The bulk of the test, 30%, focuses on executing the project.
Questions will ask about obtaining and managing resources as well as executing tasks to achieve the deliverables according to the budget and schedule. It will also focus on
meeting quality standards, managing risk and effecting necessary change as the project progresses. Finally, it asks about maximizing performance by good leadership, mentoring and training.

Managing and Controlling the Project: The questions from this domain will focus on how to assess progress on the project and communicate the project status to the relevant stakeholders. It also focuses on how to take corrective action when necessary.

Closing the Project: Questions focus on how to get deliverables accepted by the sponsor, how to close out the financial, administrative and legal aspects of the project and how to deliver the final report on the project. This section is 8% of the test.
You are going to want to be able to handle questions in all these domains in order to pass the test. Here are three ways to accomplish this goal:
Take a Class
Classes are a great way to prepare for the PMP certification exam. Benefits of taking a class include access to an experienced instructor who gives an organized and systemic presentation of the body of knowledge.
Classes also include a textbook with resources for further study. Many classes include diagnostic exams and quizzes. Often these quizzes are available online so you can take them at your leisure. The one drawback of taking a class is that it can be expensive.
There are many different options to take a class:
You can take an intensive three or four-day course from a certified PMI training program. There are many registered PMI providers that provide training courses.

You can also take an online course form. With a home computer and an Internet connection, you can derive all the benefits of classroom instruction without the large cost and necessity of travel. Many online classes even feature live online sessions with an instructor. You can take these classes from a registered PMI provider.

If money is a problem, you might try to use a self-published training course. Udemy is a great place to look for inexpensive reviews that are put together by experts.
Study on Your Own
There are many resources available for individuals studying on their own. Studying on your own is certainly less expensive than taking a class. However, it requires a high degree of discipline and planning.
You should pick a date for your test and develop a study schedule working backwards from this date. You can go over the material you need to cover and make a plan for covering that material. Then you can use a wide variety of resources to prepare for the exam.
Here is a list of material that you should consider when planning your studies:
A Guide to Project Management Body of Knowledge is the most essential resource for your studies. It provides a basic outline of everything a project manager needs to know.

The PMP Handbook lets you know what is on the test so you can effectively plan your study.

There are also many PMP workbooks and online resources that you can use for your study.

You will also want to check out important books to fill in more details around the other resources. The PMI provides a list of relevant books to check out over the course of your study.
Study in a Group
Study groups are helpful for preparing for the exam. You can benefit from the knowledge and insight of others in the group. Groups also help keep you accountable to your study schedule.
Here are some good places to look for a study group: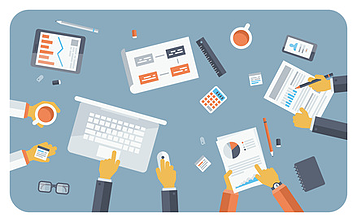 There are probably people you work with trying to obtain the PMP certification. You can form a study group with these people that meet at work. This is a very convenient way to study.

Your local chapter of the PMI is also a good place to look for a study group.

You can also look online for study partners. LinkedIn groups are especially helpful in this regard.
However you chose to study, you can effectively prepare for the PMP certification exam. With hard work, discipline and smart planning, you can master the PMP body of knowledge, get certified and take your career in project management to the next level.
Ultimately, your studies will not only help you pass an examination, but they will make you a better project manager.
Interested in learning more about the PMP exam? Download our FREE eBook today!