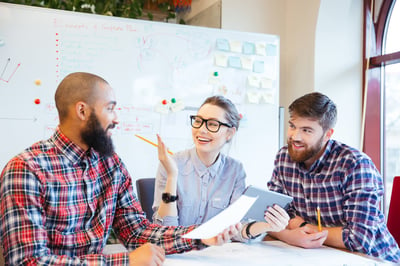 Here at ISU, enhancing student growth is a top priority- both academically and professionally. Career experience is a huge aspect to student growth within their field of study, and has the potential to direct students into a career that works best for them. One of the best ways to accomplish this is through internships.
Oftentimes, the impact of internships is overlooked, yet they offer great benefits. ISU students have access to many different types of internships, such as ISU's Career Path Internship (CPI) Program, which offers students real work experience both on and off campus.
One of the best benefits internships provide is exposure to job experience. Internships assist in career readiness in a way that is much different than classroom lectures alone. Interns are able to proficiently advance student skills in their field of study due to the nature of their internship. They can also help to guide students towards their professional goals! Internships are great for offering students the opportunity to get a close-up look at what their potential career may be like.
Due to career field exposure, internships are great for enhancing career knowledge. Internships are designed to teach students about the ins and outs of their potential future career, so with that comes all of the details that may be overlooked in their courses. Internships provide more access to content pertaining to the desired field, and is a great place to apply any previous classroom knowledge in the workforce.
Internships truly are an opportunity for students to take advantage of while in school. Through pursuing an internship, students get real work experience that is unlike anything that can be taught during instructed classroom hours. From an employer's perspective, internships are great to see on a resume, which also makes you stand out from other potential candidates.
In fact, students who fulfill an internship are more likely to secure a job sooner after graduation in comparison to students who did not. One statistic found that students who have completed an internship are 15% less likely to experience unemployment in the first few years post graduation.
Put simply, students who have fulfilled an internship are more likely to find jobs quicker. The National Association of Colleges and Employers (NACE) speculates that interns receive more job offers compared to students who do not complete an internship.
Overall, internships are a great way for students to gain a better understanding of the career options available to them. Aside from the technical aspects that come with job security and experience pertaining to a specific field, most internships are great ways to teach working with a team as well as the responsibilities of the job itself.

Internships may be the perfect boost to help you kickstart your career. If you are interested in learning more about ISU's CPI program, click here to read up more about how a CPI may be the right fit for you!
Sources:
Competencies for a Career-Ready Workforce http://bit.ly/3EMG50U
To Intern or Not to Intern: 30+ Eye-Opening Internship Statistics http://bit.ly/3iccOoH