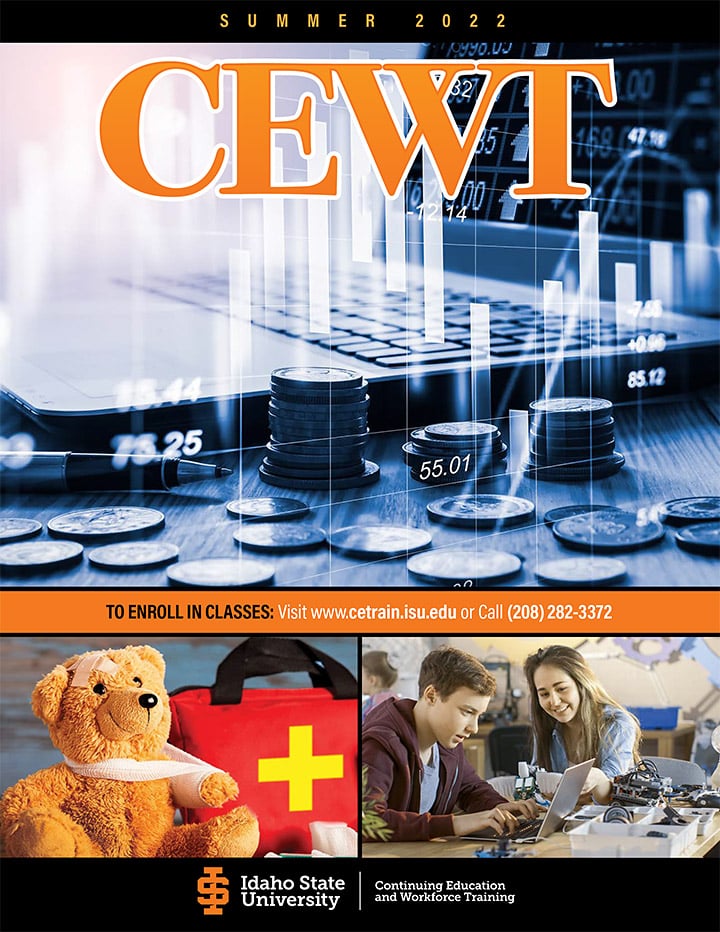 It's June, and the official start of summer is just around the corner! Swimming, hiking, barbecues, and vacations can add up to a full season. If you have a little bit of extra time, what better way to spend it than by learning a new skill, increasing your knowledge, and bettering yourself?
CEWT has a variety of classes and offerings this summer season. There is sure to be something for everyone. While a full list of courses can be found in our catalog, here are a few courses and events you might be interested in.
Note: Courses are organized by starting date.
Lunch & Learn
Date(s):
June 15, 2022
Format:
Online over Zoom
A monthly offering, June's Lunch & Learn is looking to be a great (and free!) time. Lunch and Learn "has one major purpose: to help the community by offering skills training in personal and business development."
This month's topic is Mindset; Overcoming Limiting Beliefs. It will be taught by Lisa Brian, whose credentials include owning DBA Mentoring, a Mindfulness Practitioner Diploma, and an NLP Practitioner Certificate. In her own words, "It is my passion as a life coach to help others excel in life and become the best version of themselves."
The mindfulness course will be taught over zoom, and is designed to help you "set the foundation to create and achieve your ultimate goals."
You can register here.
Supervisory Safety & Health Duties
Date(s):
June 21-23, 2022
Format:
In-Person at Eames Building
An OSHA training course, this three-day offering will cover the general safety and health requirements in 29 CFR 1910 from the standpoint of supervising, training, administering, and organizing safety and health programs. It will also include regulatory requirements and specific applications for written program requirements, documentation, discipline, hazard evaluation, and control and compliance.
You can register for the course here.
AHA Heartsaver Pediatric First Aid/CPR/AED
Date(s):
Starts June 22, 2022
Format:
In-Person at RFC
This course meets American Heart Association (AHA) and Idaho Child Care Program (ICCP) requirements (meets daycare provider requirements for the Pocatello and Chubbuck area). Students will learn infant/child/ adult CPR, obstructed airways, use of a barrier device, AED, hands-on training, and pediatric first aid basics.
You can register for the course here.
Cinnamon Roll Making
Date(s):
June 30, 2022
Format:
In-Person at RFC Kitchen
Warm, gooey, and delicious…these cinnamon rolls will satisfy any sweet tooth! Learn how to make these crowd pleasers from scratch in this fun course!
You can register for the course here.
Occupational Safety and Health Standards for General Industry
Date(s):
July 25-28, 2022
Format:
In-Person at Eames Building
This course covers OSHA Standards, and policies and procedures in general industry. Topics include scope and application of the OSHA General Industry Standards, general industry principles, and special emphasis on those areas in general industry which are most hazardous.
Upon course completion students will have the ability to define general industry terms found in the OSHA General Industry Standards, identify hazards that occur in general industry, locate and determine appropriate OSHA General Industry Standards, policies and procedures, and describe the use of OSHA General Industry Standards and regulations to supplement an ongoing safety and health program.
You can register for the course here.
These are a small selection of what CEWT is offering this summer semester. If you want to check out more, you can download the catalog here.
Make this summer one to remember, and learn something worth remembering along the way.
Hope to see you!