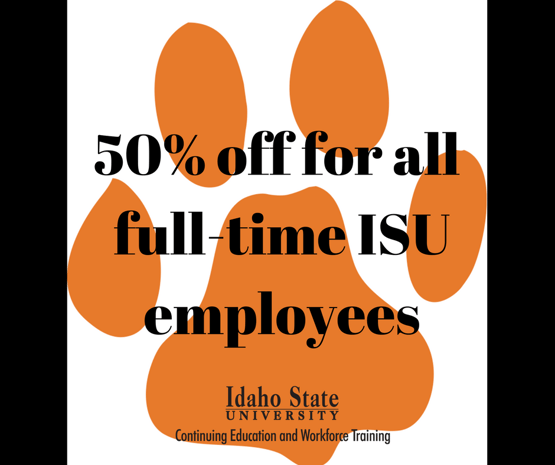 Here's an offer that your old college self would leap at: classes at 50% off.
For all ISU employees interested in professional development, continued learning, or refreshing courses of your choice, we at Continuing Education and Workforce Training (CEWT) will be offering classes at 50% off for all full-time ISU employees.
Whether it be for work, school, or pleasure, these classes are available and designed to help you better yourself and increase your knowledge and skills in the course of your choice. This past spring alone we have offered Microsoft Excel training, Business Writing, Photoshop, Spanish for Beginners, and plenty more. There are also creative outlet classes, such as learning how to cook Italian cuisine, Basic Yoga, and Window Painting for employees looking to pick up new hobbies or take that much desired "me time."
We encourage and welcome any full-time employee to sign up for classes, but please remember the following conditions apply:
All full-paying customers have first priority for registration
The minimum required student numbers must be met for each class before discounted faculty and staff will be accepted
Discount only applies to full-time employees
Upon registration, those employees on the discount will be put on a waitlist until it is determined there is an available spot. They will be informed if they are accepted 1-2 days before the class begins.
As a division within the College of Technology, CEWT supports education and wishes to aid fellow employees in these endeavors through these reduced course costs. For more information on upcoming classes, visit cetrain.isu.edu or call 282-3372.