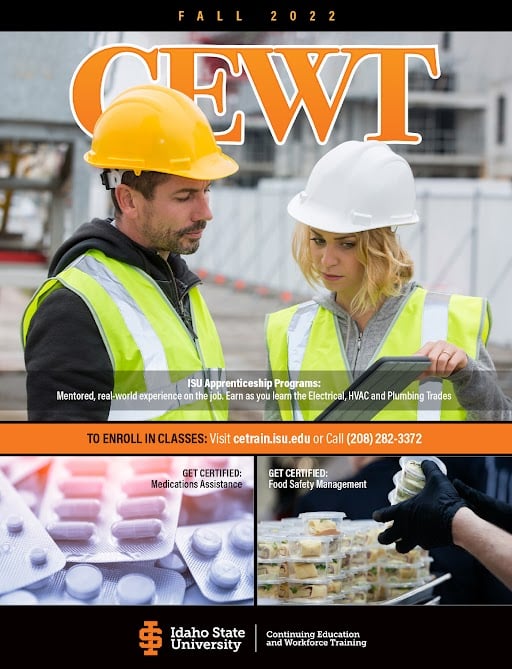 Fall semester is coming up! While the leaves are yet to turn–and the weather is still hot–school is starting up for millions across the country. Even if you aren't attending school there is still room to learn. Spend a little time this season learning a new skill, increasing your knowledge, and bettering yourself.
CEWT has a variety of classes and offerings this Fall. There is sure to be something for everyone. While a full list of courses can be found in our catalog, here are a few courses and events you might be interested in.
Fall Semester Courses
Professional Selling Master Class
Date(s): First session begins Sept. 9, 2022
Format: Online over Zoom/In-Person
This course elevates your sales skills to become certified as a Master Professional Salesperson. The Walter P. Brown Center for Sales Excellence at Idaho State University and Success-Works present five "flex-scheduling interactive, in-person workshops where you'll learn from the nations' most successful sales experts. Double sales faster with no stress...even in a Downturn."
The course has a variety of options and topics including:
Boot Camp

Clinic 1: Master Prospecting
This clinic focuses on the two components of effective prospecting: Overcoming call avoidance and executing potent techniques.
Clinic 2: Master Persuasion/Presenting
This clinic will train you to build strong relationships with clients/prospects and learn how a change of approach can help you accomplish this.
Clinic 3: Master Class-Closing Sales
This clinic trains you to identify real decision-makers, get commitments, and eliminate think-it-overs.
Clinic 4: Breaking Barriers Get Out of Your Own Way
This clinic explores topics related to self-coaching, self-accountability, managing your pipeline, setting a goal management plan, and more.
Clinic 5: Breaking Barriers Emotional Intelligence
This session will help you increase your commitment to sales success and hold yourself accountable.
You can register here.
How to Create and Operate a Consulting Business
Date(s): Oct. 26, 2022
Format: Online over Zoom
This course is designed for those considering starting a consulting business and for those early-stage consultants in their first or second years of work. Course includes these topics: Market analysis, financial planning, getting enough clients, cash flow troubleshooting, which products and services are feasible for our markets, the RFP process, consulting business problems/solutions, basic outline of your tax and financial reporting responsibilities and related topics.
AHA Heartsaver Pediatric First Aid/CPR/AED
Date(s): Starts Sept. 7, 2022
Format: In-Person at RFC
This course meets American Heart Association (AHA) and Idaho Child Care Program (ICCP) requirements (meets daycare provider requirements for the Pocatello and Chubbuck area). Students will learn infant/child/ adult CPR, obstructed airways, use of a barrier device, AED, hands-on training, and pediatric first aid basics.
Chinese Cuisine
Date(s): First class begins Sept. 1, 2022
Format: In-Person at RFC Kitchen
Chinese Cuisine is famous around the world. The following sections will introduce a variety of dishes that may enhance your understanding of Chinese food. If you are interested in tasting authentic Chinese food and/or learning how to cook these dishes, these classes are for you! Various sections including: dumplings, snow ladies, ground pork dishes, shrimp dishes, rib dishes, and pumpkin buns.
Social Security Basics: Know How and When to Claim
Date(s): First session Sept. 14, 2022
Format: In-Person
Come and learn the basics of Social Security including the history of the program, how different benefits are paid, and the future viability of the program. This course aims to prepare individuals to decide when to file for benefits so as to maximize payout and meet retirement needs.
Introduction to Writing for Children
Date(s): Oct. 26, 2022
Format: In-Person at RFC
Let's discuss the many different kinds of books written for children. What makes writing for children different from writing for adults? How can you shift your story to reach the audience you're aiming for? Come learn about this wonderful genre with MFA Grad Jamie Wood.
These are a small selection of what CEWT is offering this Fall semester. If you want to check out more, you can download the catalog here.
Make this Fall one to remember, and learn something worth remembering along the way.
Hope to see you!