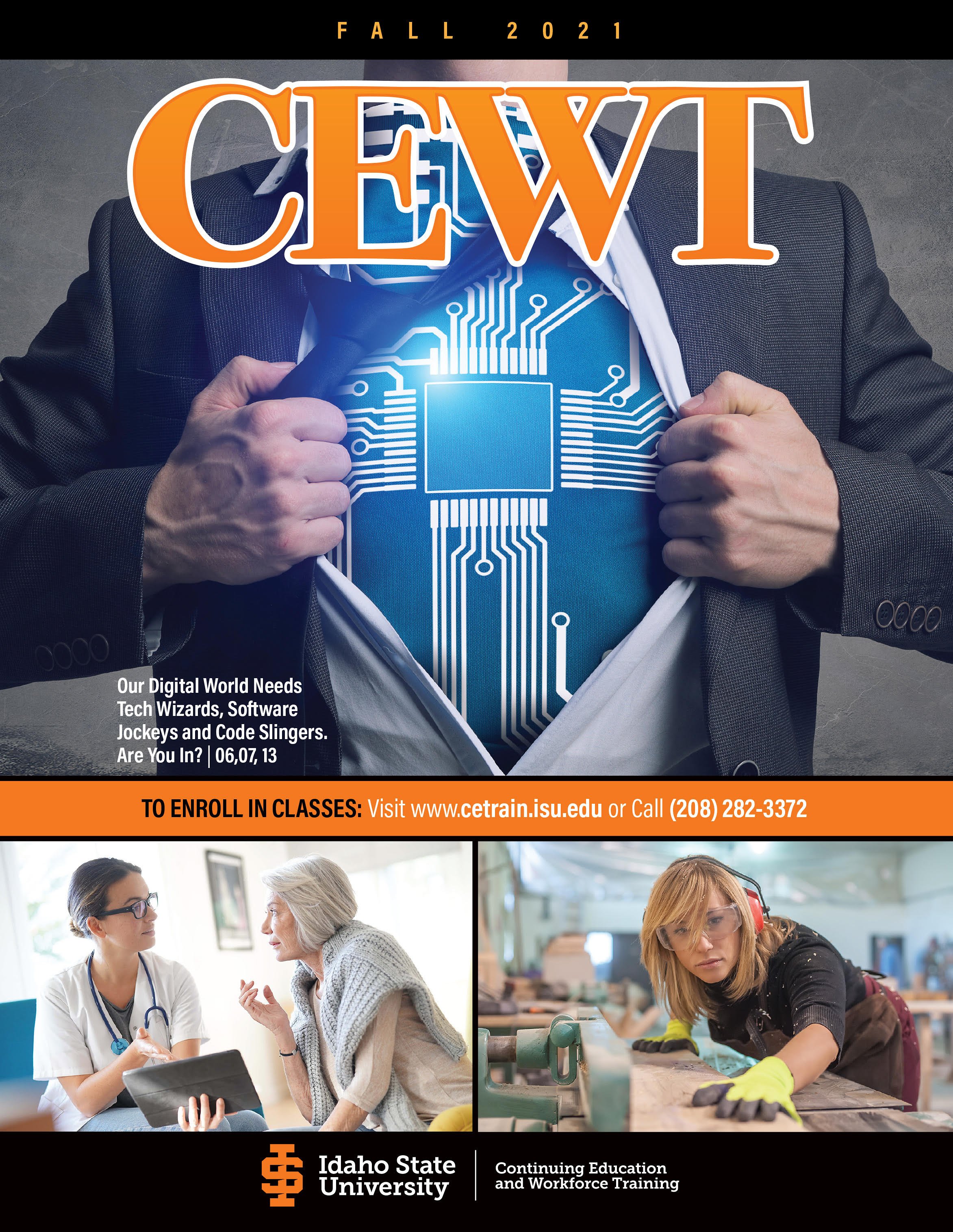 Summer is quickly coming to an end. As school starts back up and vacations come to a close, Idaho State University's Continuing Education and Workforce Training (CEWT) invites you this fall to learn a new skill, develop a lifelong passion, or further your education.
Registration for CEWT's upcoming 2021 fall semester is open as of today. Click here to download a PDF of our catalog. Also be sure to click here to register for the courses that interest you.
Be sure to keep an eye out for the printed catalogs coming in the mail. They will begin arriving as soon as August 16th. Take a moment and read through our class offerings, and be sure to register for those classes that catch your eye.
Here is a sneak preview of some of the classes that are offered this fall:
Certified Nurse Assistant (CNA)- Prepare yourself for employment opportunities as a nursing assistant in extended care facilities, hospitals, home-care and hospice situations.
Financial Literacy (Online Course)- Evaluate and analyze personal and public information and databases to develop financial literacy for budgeting, credit, borrowing, planning, insurance, investing and estate planning.
Mandala Rock Painting- Keep calm and relax through the art of mandala rocks. Learn the history and meaning behind mandala art, and apply that knowledge to your own mandala rock art.
Beginning & Intermediate Stained Glass- Learn this technique used in the Tiffany studios to create many of their masterpieces.
Pumpkin Pour Painting- You will learn the easiest tips and tricks for creating gorgeous designs with paint poured directly out of the bottle—they're called pour paint pumpkins for a reason, after all!
Idaho State University continues to monitor the COVID-19 outbreak, and the safety and well-being of our entire campus community, including visitors, is our top priority. As a result, scheduled events may have to be cancelled or moved to an online format. Attendees will be notified of any changes or alterations to schedule.
For more details, please visit the official ISU COVID-19, Information and Update page at: isu.edu/coronavirus
For further information on our upcoming classes visit cetrain.isu.edu or call us at (208) 282-3372.