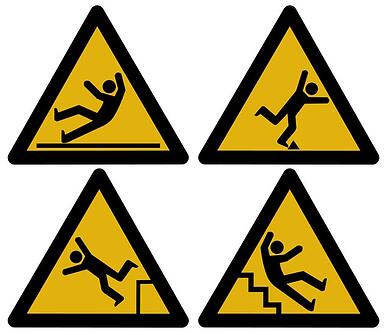 According to the Top 10 OSHA Violations list of 2011, the most cited violation is
Fall Protection (29 CFR 1926.501)
There were 7,139 violations reported in 2011, of which 260 resulted in a
worker's death
.
The most common types of work-related falls are:
Falls from ladders
Falls from scaffolding, staging
Falls on the same level
Falls from non-moving vehicles
Falls from one level to another
From roofs
Down stairs or steps
From building girders or structural steel
From trees
OSHA Tips for Fall Prevention
Falls from roofs can be prevented by:
Wearing a harness and always stay connected.
Making sure your harness fits.
Using guardrails or lifelines.
Inspecting all fall protection equipment.
Placing guarding around or over all holes, openings and skylights.
Falls from ladders can be prevented by:
Choosing the right ladder for the job.
Maintaining three points of contact.
Securing the ladder.
Facing the ladder always.
Falls from scaffolds can be prevented by:
Using fully planked scaffolds.
Ensuring proper access to scaffold.
Making sure scaffold is plumb and level.
Completing all guardrails.
Ensuring stable footing.
Making sure a competent person inspects the scaffold before use.
Also, don't miss out on our FREE training videos covering a variety of OSHA related safety topics. Check out our video library here.