Mayor (Harry Morgan), "It ain't just a matter of you wanting the job, you've never said what your qualifications are." Sheriff Applicant (James Garner), "Oh, don't worry about that. If you hire me, you'll be glad you've got me." – From the Movie, Support Your Local Sheriff
I feel rather foolish writing about something that should be glaringly obvious. However when hiring new employees lately, an alarming number of people seem more interested in what the organization can do for them, rather than what they can do for us.
For example, several seemingly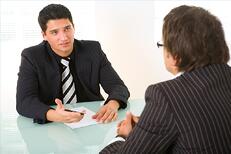 bright prospects had no idea what we do. Their guesses ranged from building computers to remedial education. One woman wanted to be hired so that she could build a competing business. ("How many customers do you think I could get in six months?") Several people lost interest in positions offered when they completely read the job advertisement—at their interview. If it were not for the recession, I would think these folks were purposely trying to avoid being hired.
Since the economy is starting to show signs of life, it may be time to revisit some basic interview preparations.
Find out about the business and what it does. Check out the company website. If (horrors!) they don't have an online presence, check the local Department of Labor, Chamber of Commerce or Better Business Bureau, a current or past customer or employee, or search through online newspaper archives. Gather as many different viewpoints and as much information as possible.
Visualize working for the company. Imagine as many ways as possible that the company could benefit from hiring you. Be sure to make a list of your ideas to help solidify them. If possible, prepare two or three examples of past successes that could translate well into their company. If that won't work, a sincere compliment or constructive idea on an ad campaign or product is a good substitute.
Look for ways to show how you can benefit the business.

There is no need to be shy about promoting your abilities, talents and your willingness to help ensure the company's success. Give examples of how your skills can benefit them. Make certain the interviewer walks away knowing you want the job.
Most importantly, remember it's all about them. After interviewing more than 30 people in the past few months, those who were hired had different levels of experience, skills, education, and a wide range of personality types. They had one thing in common, though: I was certain they would do their best to make the office successful.
Smiles,
Kathy