Growing up in an agricultural community, I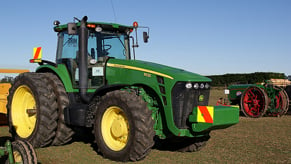 have a highly personal view of farming accidents. A cousin and a school friend were both seriously injured in separate harvest mishaps.
Tractor accidents are the leading cause of accident and death in young farm workers. The two most common types of tractor accidents are overturns and runovers. As the name suggests, overturns occur when a tractor becomes unbalanced and flips or rolls over, often when on a slope, ditch bank or when pulling an unbalanced or oversized load. Runovers indicate a person being run over by a tractor. These tragedies can happen when someone falls off a moving tractor or starts the tractor in gear while standing on the ground. People nearby are also run over when the operator can't see them.
1. General Tractor Safety Suggestions
Learn proper safety practices
Make sure work instructions are clear and understandable
Restrict the number of people around equipment
Always act as if the driver of equipment can't see you
2. Safety Prevention for Overturns
Ensure tractors are equipped with a roll bar and seatbelts
Use seatbelts on roll bar-equipped tractors
Use the right type of equipment for the job
3. Safety Prevention for Runovers
No extra riders
Keep children and others away from work area
Keep bypass shields on starters and electrical systems in good working order
Start engine from operator's seat and avoid bypass starting
Shut down equipment, turn off engine, remove key and wait for moving parts to
stop before getting off the tractor
Use ROPS and seatbelts to prevent falls or being ejected from the tractor
Consider adding a safe tractor access platform to the tractor
If you have are working in agriculture you probably know someone who has been killed or injured in a tractor accident. If not (or if you want to impress the importance of safety to youth workers), the National Agriculture Tractor Safety Initiative's webpage has over a dozen true stories of tractor accidents written by survivors or the families of those who didn't make it.
http://depts.washington.edu/trsafety/prevention.php
A Guide to Agricultural Rollover Protective Structures