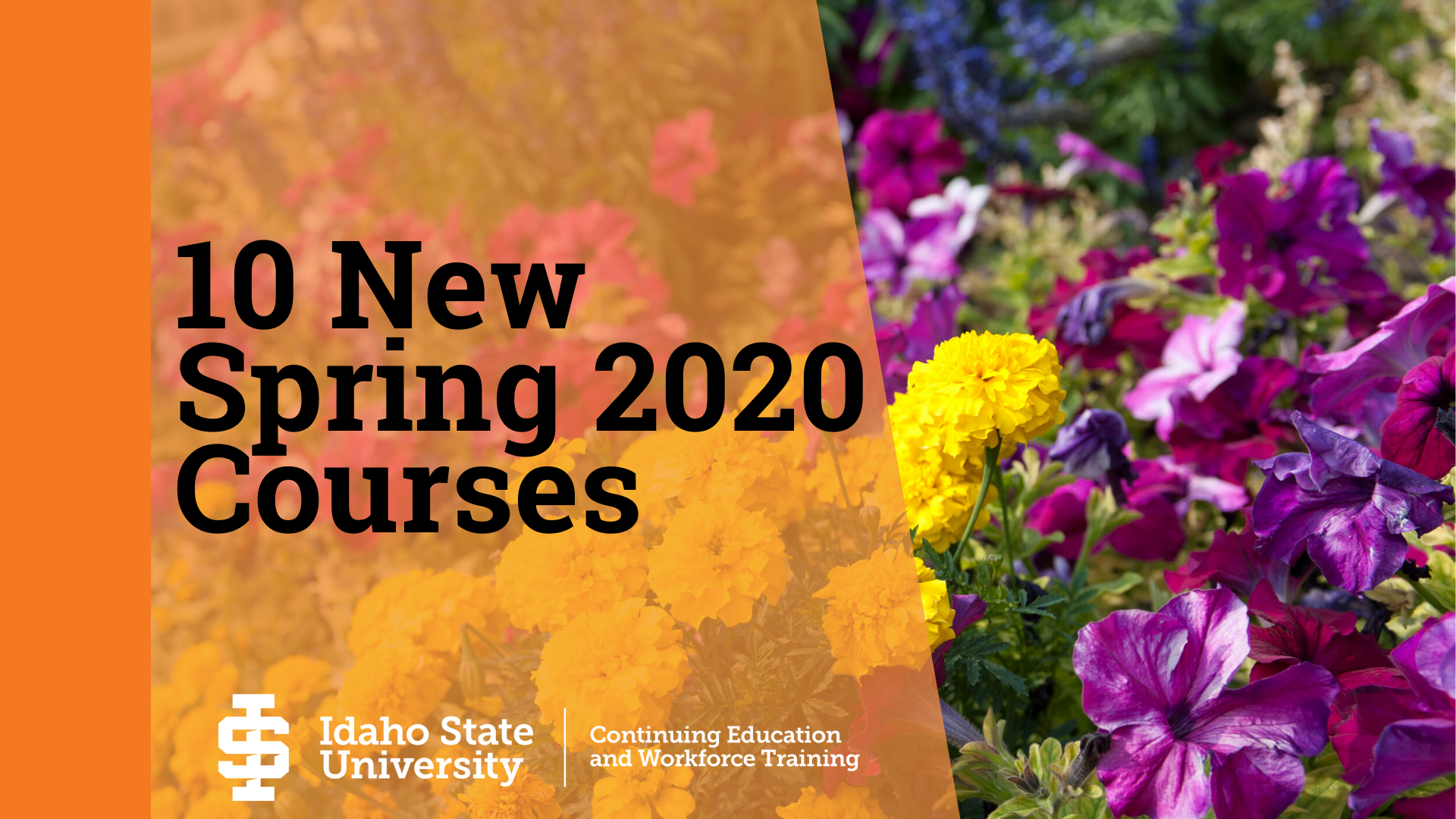 The new year is almost upon us-- so is the new decade, try not to shudder at that thought-- and with every new year comes planning out new year's resolutions. Those resolutions being achieved, however, is a different story. According to U.S. News, about 80% of New Year's resolutions fail by the second week of February.
This can be partially blamed by setting lofty goals as your resolutions, which can quickly become overwhelming and feel impossible to achieve. You shouldn't lose hope and abandon your goals; consider changing your perspective about your resolutions instead.
Instead of planning to become a supermodel or Fortune 500 entrepreneur, why not consider learning something new, picking up a new hobby, or finding a new career path? Thankfully for you, Continuing Education and Workforce Training can help you on your (more easily attainable) journey.
Our 2020 Spring catalog has just been released, and it is chocked full of new classes for you to check out, along with several other interesting courses and programs. Be sure to check your mailbox so you don't miss it!
In the meantime, check out some of our new classes here:
RESTART®: The RESTART® Program is a five-week class led by a qualified Holistic Nutrition Professional. It combines the simple elements of an up-to-date nutrition education, and a guided 3-week sugar detox (aka Real Food Challenge), with small group support into a powerful way to kickstart a new healthy lifestyle. It's truly an empowering combination!
Class begins on January 14.
Fraud Prevention: In the digital world, staying safe from fraud is important more than ever. In this fraud prevention course, you will learn ways to combat fraud by analyzing some of its symptoms, methods/motivations behind it, and its legal resolutions. You will also learn ways to combat fraud and methods of fraud detection.
Class will be held on February 11.
Graduate Record Examination (GRE) Test Prep: Preparing for the GRE will help you get your best score on this important test. In the class we will cover strategies for all of the sections on the GRE. In addition, we will work through hundreds of practice problems to make sure you master the key skills. The course materials include both online and paper tests, so you will be ready to rock the GRE.
Class begins February 28.
Growth Mindset: Self-Talk: How you perceive the world around you begins with yourself. Instead of staying stuck in negative cycles, positive self-talk can help change your worldview. This course will help you change the internal conversation, resulting in positive change.
Section one will be held on January 28.
Section two will be held on February 25.
Cooking with Root Vegetables: If you live in Idaho and cook seasonally, cooking with root veggies is a part of natural yearly cycle. Spring is the perfect time to learn some techniques to prepare celeriac root, beets and parsnips. Learn about the benefits of eating these root veggies and try new recipes in the hands-on class.
Class will be held on March 6.
Gluten-Free and Vegan Baking: Discover a world of alternative ingredients for Chocolate Chip cookies. This class is for those who want cooking tips because of wheat, gluten-free, and vegan dietary lifestyles. These cookies are allergy-friendly, vegan, gluten-free and for everyone. Is that possible? Come to class and find out for yourself. Your taste buds will thank you and so will your friends.
Gluten-free Chocolate Chip Cookies will be held on February 4.
Vegan Chocolate Chip Cookies will be held on February 11.
Digital Image Creation and Design | Beginner – Intermediate: Learn how you can design and edit images with freeware programs like Paint.net and Inkscape, and see your computer design skills grow. In this course, we will cover design basics, must use tools/filters, along with the differences between Vector/Raster Images. Learn the Pro tips and tricks to creating amazing images. Projects will include designing a CD cover, postcard, a 13" x 19" poster/calendar and a Pro 24" x 36" movie poster. Students must have general computer knowledge.
Class begins April 14.
Sketch Quest: Spend a spring Saturday afternoon with some other art types, exploring Pocatello in a way you haven't before, sketching in a few different locations and making some awesome art. The class will meet and talk a bit about the sketchbook—a little history, and how other artists utilize this drawing tool. Then we will head out to a few places in town. Bring your favorite sketchbook (8.5"x11" or 9"x12" suggested) and drawing tools. Students need own transportation to reach the sketch destinations.
Class will be held on April 25.
Transfer Serving Tray: A beautiful serving tray is one of the simplest ways to captivate your guests. In this course, you will paint and use materials like transfers and waxes to create your very own, one-of-a-kind serving tray. All materials provided.
Class will be held March 3.
Corn-hole Boards: Was your backyard barbeque lacking this past summer? Create your own corn-hole set up and bring fun to next summer's get togethers. You just need to bring your creativity to make your corn-hole set a unique part of your backyard. All materials provided.
Class will be held April 22.
You can check out the rest of our available courses and the entire catalog online here.
Any questions about the catalog or CEWT's services? Visit cetrain.isu.edu or call us at (208) 282-3372.